WILD CARD CHALLENGE #6 – Earth Day WILDCARD Challenge.
Date: April 22, 2022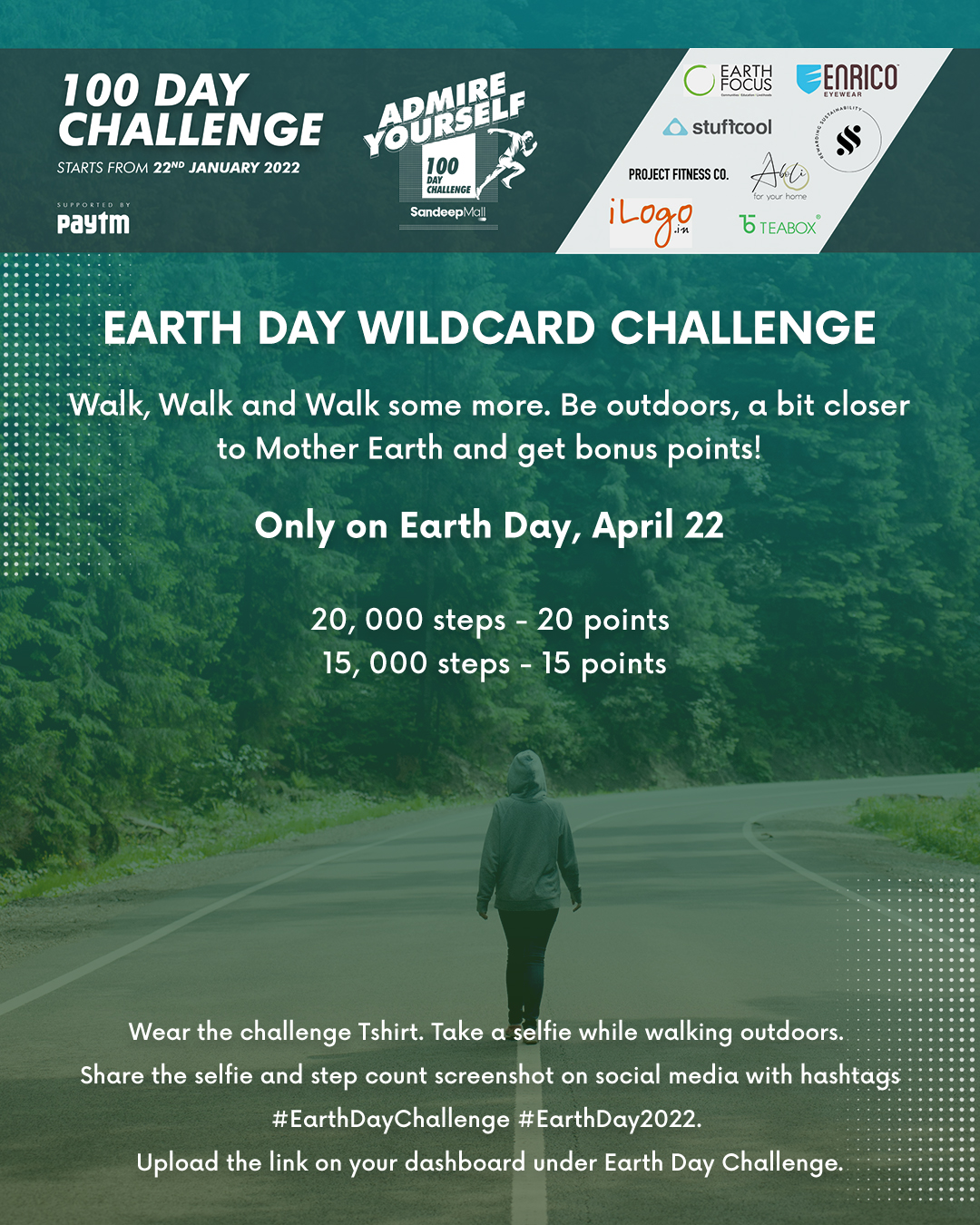 WILD CARD CHALLENGE #5 – PushUps.
Date: April 11-18, 2022
Option 1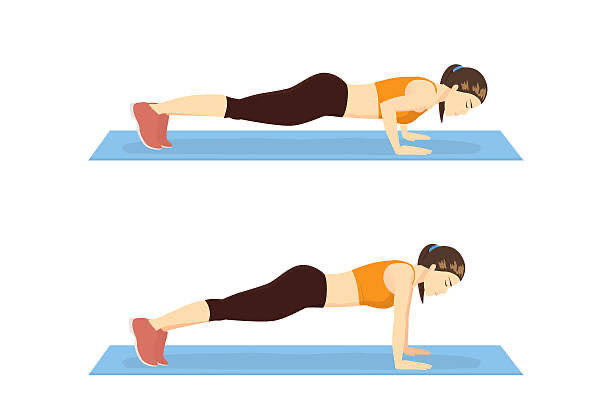 10 push-ups – 15 points
and for every additional there after, 2 points per push up.
Option 2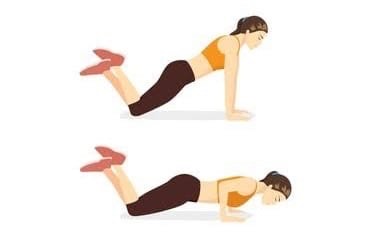 If you do push ups with knees on the floor,
15 push-ups – 15 points
No further point for additional push ups
Please note:
– the push-up count has to be at one go.
– No points for below 10 push-ups (option 1)
Or below 15 push-ups (option 2)
Upload the activity video on social media (Pl ensure that if it's on Instagram, it's not a private activity) and share the link or upload the video on activity dashboard in the website.
The challenge is open from April 11 to 18, 2022.
WILD CARD CHALLENGE #4 – Plank for a minute.
we bring you another opportunity to up your point tally. Here comes the fourth wildcard challenge – Plank for a minute.
March 21-27 only
Plank option 1 – for 15 points

Plank option 2 with 10kg weight – for 25 points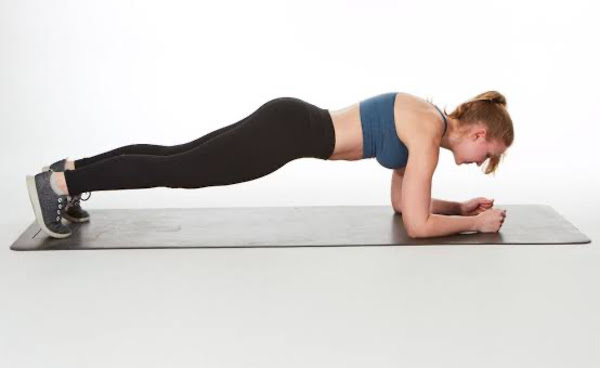 Plank Option 1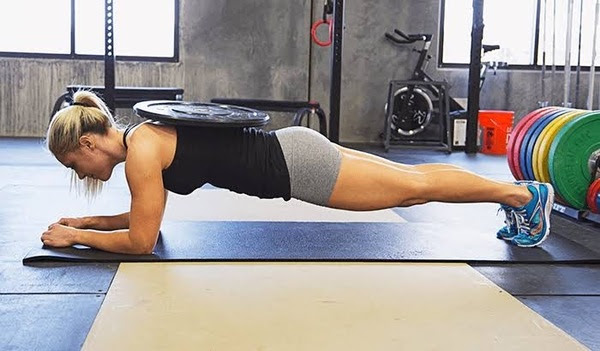 Plank Option 2 (with 10kg weight)
Do plank for a minute, record your video, upload on Twitter/Instagram with hashtags #wildcardchallenge and #AdmireYourself and share the link using the data dashboard. Choose the appropriate option of WildCard Challenge 4 from the list, add the link of your social media post and submit.
If you are not on social media, you may upload your video directly but the video size shouldn't exceed 10MB.
WILD CARD CHALLENGE #3 – FLEXIBILITY
For the third wild card challenge, your body's flexibility can win you bonus points.
This Wild Card Challenge is closed.
Flexibility – a simple challenge that can get you 20 or 10 points. See the following image for reference. Click your photograph in either of two positions featured in the image. Make sure your knees are not bending.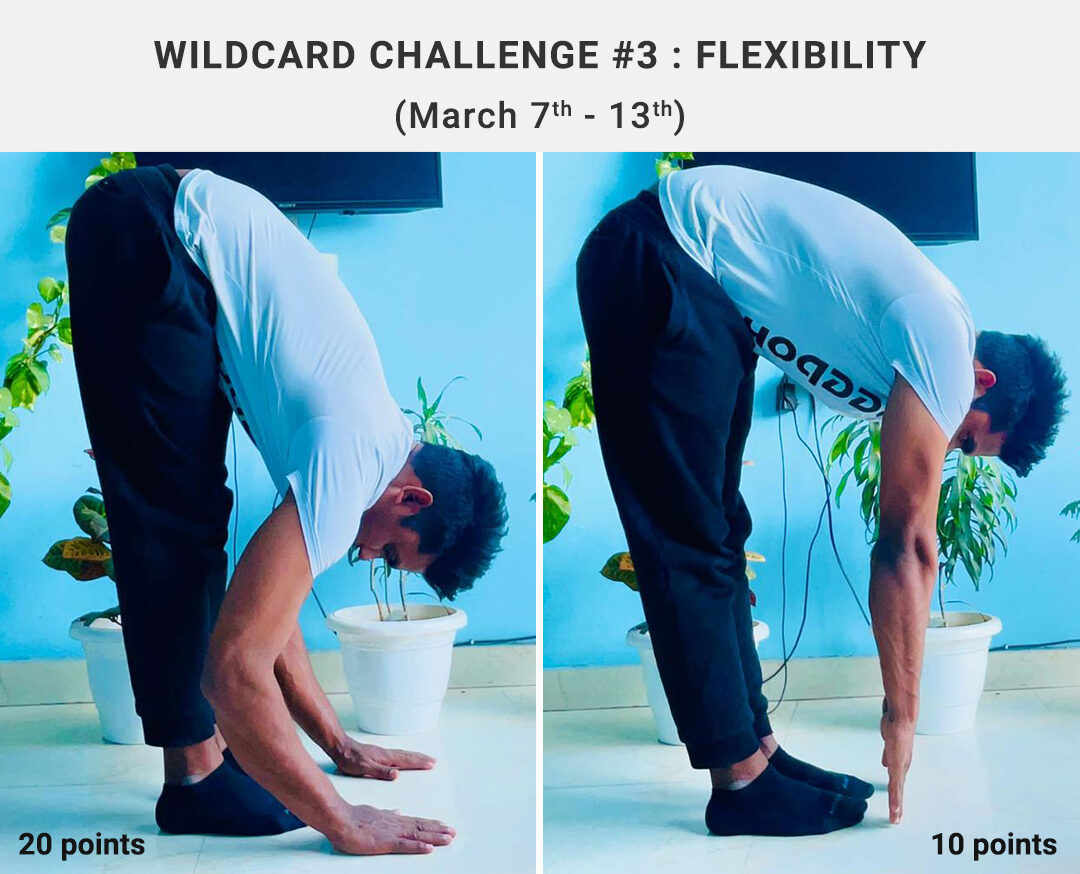 Process to submit for bonus points:
Post on any one of your social media pages with tags – #AdmireYourself #WildCard3.
Then upload the link of the social media post in your activity dashboard.
Choose the option appropriately: Flexibility – Palm on the floor or Flexibility – Toe Touch.

Or

If you do not have a social media profile, you can directly upload the image in your activity dashboard, choosing the appropriate option between Flexibility – Palm on the floor or Flexibility – Toe Touch.
The Flexibility Wild Card Challenge starts from March 7 and ends March 13.
WILD CARD CHALLENGE #2 – FLAMINGO BALANCE
For the second wild card challenge, get ready to test your body's balance and earn a few bonus points while having fun.
Flamingo Balance Test – your ability to balance successfully on a single leg and assesses strength of the leg, pelvic, trunk muscles as well as static balance.
This Wild Card Challenge is closed.
How to perform test
Stand on any flat surface as shown in the video.

Keep balance by holding someone or something, if required, to start.

While balancing on the preferred leg, the free leg is flexed at the knee and the foot of this leg held closed to the buttocks.

Start the timer as you leave the support, in case u took, to start.

Pause the stop watch each time you lose balance.

Resume again until you lose balance.

Count the number of falls in 30 seconds.

If there are more than four falls you don't qualify for any point.

Points you can earn in 30 seconds of Flamingo Balance Test:

No fall – 20 points

One fall – 15 points

Two falls – 10 points

Three falls – 5 points

Upload the video like last time on your social media. Use #AdmireYourself and #WildCard2. After posting on social media, copy the link of the post, login to the activity dashboard and choose relevant Flamingo Balance (depending on number of falls) and paste the link of your post about balance test. In case, if you do not have any social media handle, you can upload the 30 second balance video on the activity dashboard (file size limit:5MB).
Admins have the right to reject the entry in case if the rules are not followed. Videos uploaded before February 19 or after 26 will not be accepted.