Upcoming Good Vibes Space Sessions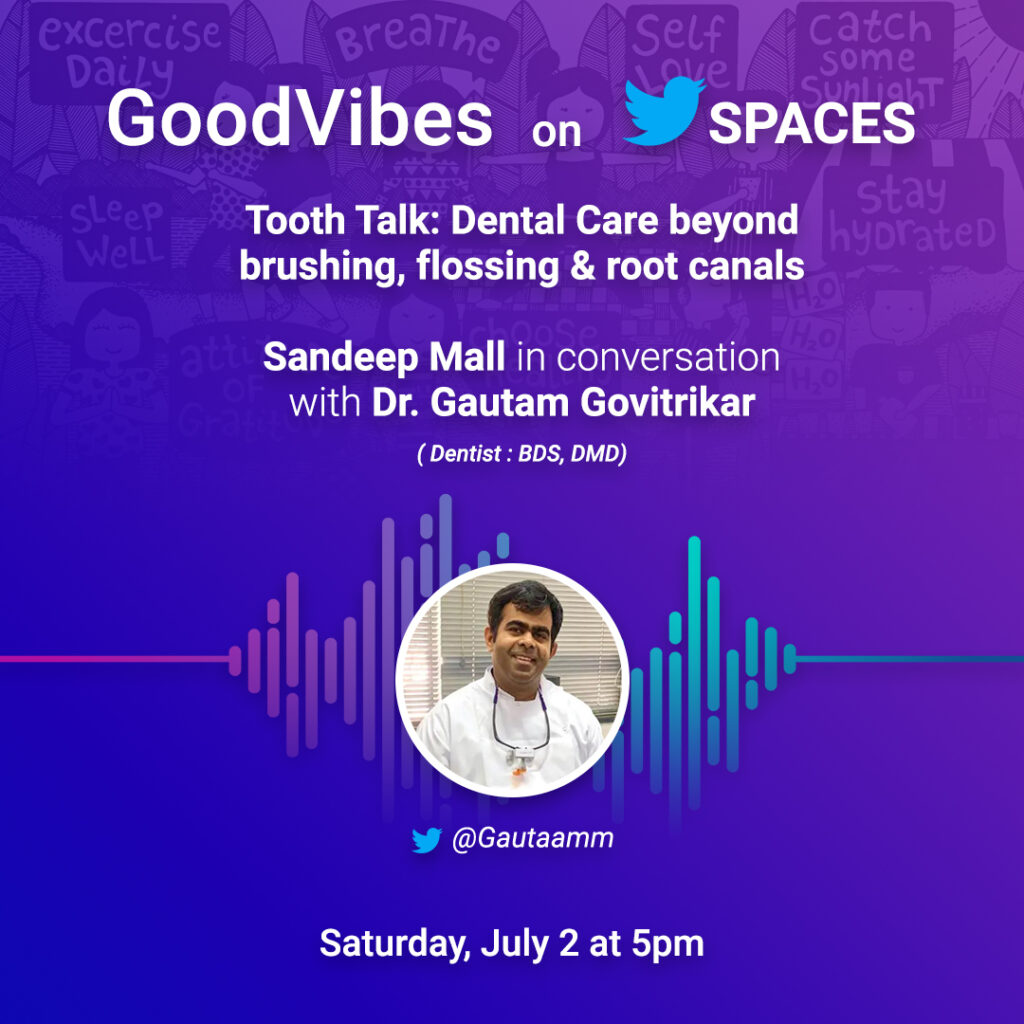 Saturday, July 2, 5PM
Dental care beyond brushing, flossing and root canals with Dr Gautam Govitrikar @Gautaamm
Dentist : BDS, DMD
This page will be updated from time to time with excerpts and recordings of Good Vibes Space Sessions by Sandeep Mall.
Recently done Good Vibes Space Sessions
Guests: Dr. Divya Sharma, @divya_sharmaMD
Cosmetic Dermatologist I Hair Specialist
Moderator: Sandeep Mall

Click here to listen to the recording of this Spaces session on Skin & Hair Care.
Breathe work – Pran (bio energy) Ayam (circulation of bio energy) with Kamana Pereira @Kilo_Bravo13
Yoga Certified Trainer I Spiritual Teacher I Accredited Life Coach I Centre Head of The Yoga Institute, Goa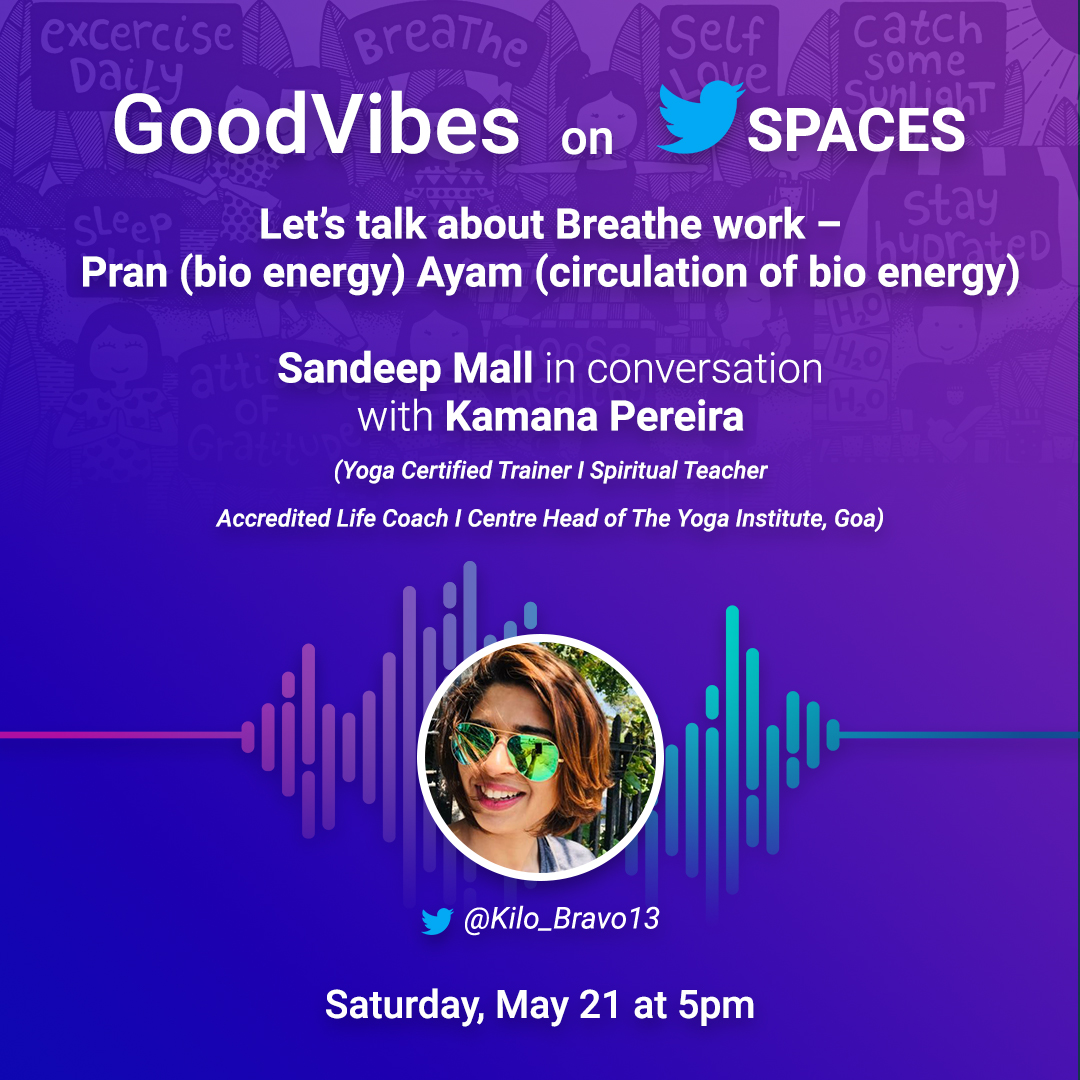 Guests: Dr. Divya Sharma, @divya_sharmaMD
Cosmetic Dermatologist I Hair Specialist
Moderator: Sandeep Mall

Click here to listen to the recording of this Spaces session on Skin & Hair Care.
The space session on understanding our skin and skincare with Dr. Divya Sharma was truly invigorating. A renowned dermatologist from Bengaluru, Dr. Divya Sharma deftly brought home the point – why skin, the largest organ, is actually a mirror of our entire body-system and should be duly taken care of'.
Some highlights from the interactions between Dr. Sharma and Sandeep:
Basic skin care includes using a good cleanser and moisturizer according to skin type with a gap of 15 to20 minutes between the two.
Using a SPF 15 or 20, non-comedogenic, and chemical free sunscreen thrice a day to avoid acne is also important. A blue light filter can help safeguard your skin from the ill effect of a computer screen.
Exercise is integral to the skin care regime as it helps in retaining moisture in the body, removes toxins, delays aging, decreases insulin and slows down degradation of collagen.
Illness or increased insulin levels leads to hair loss, and receding hairline. Hard water does not damage the hair texture; however, it can cause dandruff. Water softener might help to address dryness in skin or dandruff.
Most of the regeneration of the skin takes place at night. Hence proper sleep prevents ageing or premature ageing.
Pre-work out cleansing is important. Makeup products including heavy hair oils should not be applied before working out. Using lip moisturizer and sweat resistant sunscreens before workout is important to check dehydration.
Proper hygiene and sanitization of the weights or equipment is important to stay away from moisture induced infection; also wearing gloves while lifting prevents hardening of skin on palms.
Consider using spring water to cleanse the sweat post workout. Always use flip-flops if using a public shower or sauna or steam baths and keep the scalp oil free by using a small amount of shampoo.
For a morning routine, use a cleanser, vitamin c before applying sunscreen and for nighttime one use retinoid, hydrochloric acid. Avoid using a new cream before going to sleep.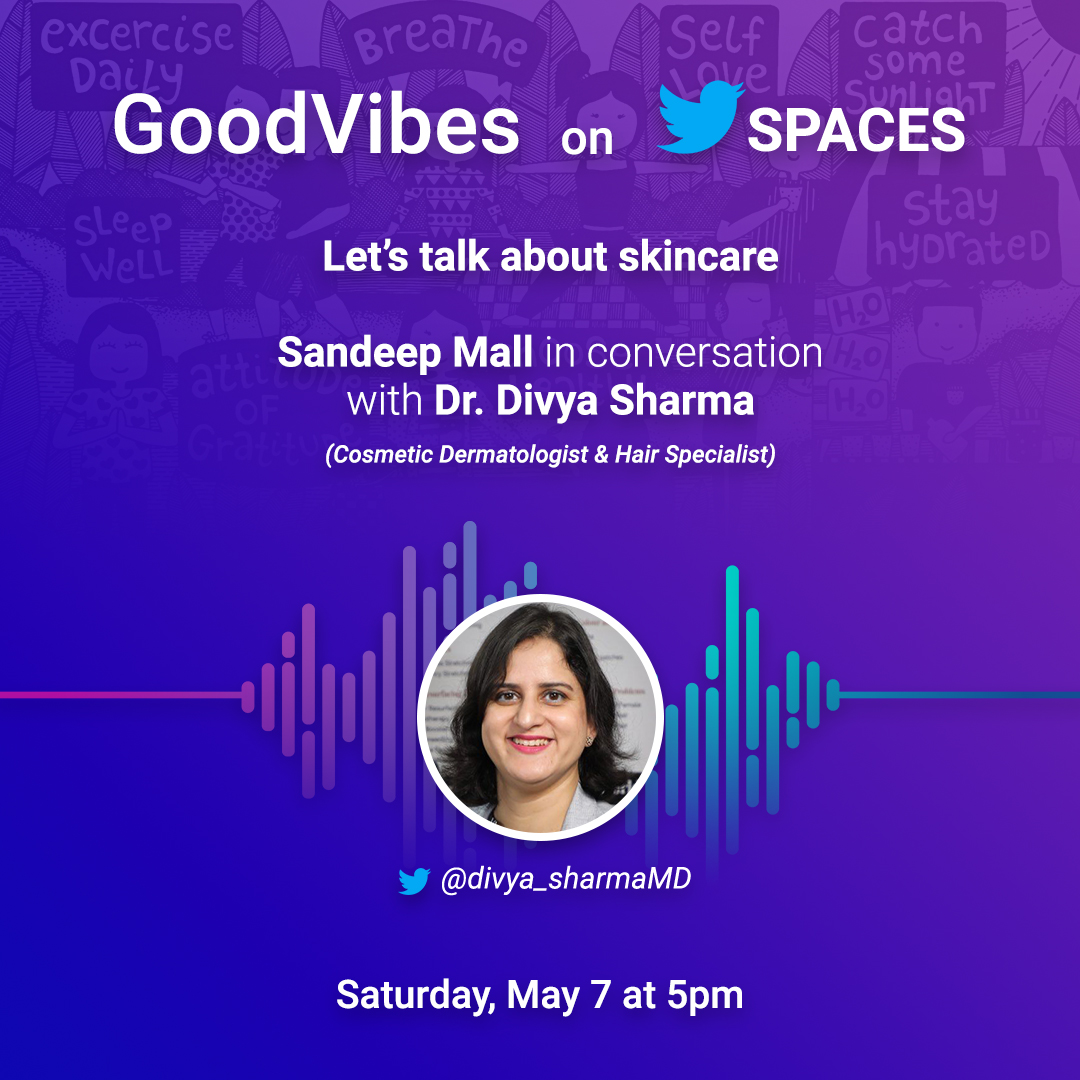 Highlights of the Q & A session –
1. There is no right age to start skin care, earlier is better. 35 onwards have a routine of applying retinoid, under eye cream to prevent wrinkles.
2. Wear a full body swimsuit for protection against chlorinated water and less tanning. Take a quick shower after swimming, pat dry the skin and apply moistures quickly. If one is swimming in the sun, an antioxidant supplement should be taken.
3. Steamer makes your hair dry. Dandruff indicates some deficiency in your body. Dandruff issues above the age of 25 should be checked with a dermatologist. Also consider using medically produced shampoos.
4. Coconut oil is the only hair oil which penetrates into the hair.
5. Avoiding scrubbing on face, using sunscreen, taking natural antioxidants present in yellow vegetables, and vitamin c can prevent pigmentation.
6. Radio frequencies, heat massages or heat circulation help to retain collagen.
7. Many can get post covid hair loss till 3 months. If hair loss extends further visit a doctor for diagnosis and treatments.
8. Post menopause hair loss can be cured\prevented through customized lotions, medicines as prescribed by a dermatologist.
9. Acne scars, facial hair and fat around the abdomen now have alternative treatment options depending upon the user's diagnosis and existing medication.
10. Fiber rich foods, natural antioxidants, and probiotics are good for good skin. For dark lips- use a good moisturizer and avoid constant licking of lips.
11. Correct lifestyle, less stress, eating right helps to maintain a healthy looking skin. Supplements cannot replace the degradation of collagen which happens naturally. If used, supplements should be taken under the guidance of dermatologists.
12. Pediatric sunscreen should be applied on children if recommended by a doctor. It is safer to play in the shade, and wear a hat.
13. Women should avoid heavy hair oil post-delivery. A balanced diet, a gentle cleanser, moisturizing and sunscreen should also be the routine for a new mother.

Guests: Nachiketh Shetty, fitness coach and nutritionist, and his mentee, Vivek Gupta, a financial planner by profession, a passionate weight lifter
Moderator: Sandeep Mall
Click here to listen to the recording of this Spaces session on Strength Training, Weight Loss and Physical Transformation.
The second episode of Sandeep Mall's Twitter Space Series on Deep Health was an interesting exchange of experiences and insights on strength training and body transformation between Nachiketha Shetty, fitness coach and nutritionist, and his mentee, Vivek Gupta, a financial planner by profession, a passionate weight lifter, moderated by Sandeep Mall.
Nachiketha explained, when an individual crosses age 30, bone density decreases and how day to day functions, like walking in the park, lifting groceries, walking on uneven or slippery surfaces or even carrying a child, require a lot more effort. Absence of strength training causes difficulty in performing day to day activities as we grow old.
Some highlights from the interactions between Nachiketha, Vivek and Sandeep:
Strength training helps in building and maintaining muscle mass, joint health and bone density.
There is no standard formula for strength training. As a general guide line, an individual can do strength training for 45 to 60 minutes, 3 times in a week. To begin with, one can start with just once in a week.
Strength training in a gym is not compulsory, however working out in a gym becomes more convenient because of the availability of strength training equipment, and one can gradually and comfortably transcend from a beginner to a more comfortable level.
There is no age limit to begin strength training in one's life. Lately even senior citizens are taking up strength training and working towards a better life and health span.
A workout which gives enjoyment to an individual will be the most sustainable workout.
Goals should be clear for the individual.
Individuals, whose weight is on the higher side, should not do the same cardio exercises everyday. For example, doing heavy cardio based exercises, such as walking on a treadmill puts a burden on the joints. Variety in exercises reduces the possibilities of injuries.
For an overweight person, body weight exercises should be introduced slowly.
A good and knowledgeable coach matters a lot in one's fitness journey.
Individuals with diabetes should consult their doctors, nutritionists while beginning intermittent fasting.
Doing stretching exercises while using weights actually helps in increasing flexibility and mobility of muscles.
Recovery between workouts is important for fat loss and muscle gain. Improper sleep, lack of nutrition (including protein), general stress levels, over exertion, insufficient rest days impact the recovery rate of the individual.
Environment, family support and maintaining workout discipline help in the long run.
Excerpts from Q and A
1. Switching between cardio and strength training maximise the benefits of workout.
2. Patience, nutrition, and calorie tracking are the key to losing midriff fat and also help in moving the scale and improving performance at the gym.
3. To minimize the imbalance between right and left during strength training, unilateral exercises should be done by the user. Separate exercises of the right and the left side also help.
4. Adequate recovery and gradually increasing the strength training workouts help in managing pain.
5. Ideal number of sets varies from individual to individual and can only be zeroed on through trial and error method.
Overall an insightful Deep Health Space session, a good beginner's guide on how to introduce strength training workouts in our lives for better joint health and a pain free living as we age.
Guests: Dr. Rahul Baxi, Consulting Diabetologist at Bombay Hospital and Ms. Ujjwala Baxi, registered dietitian with focus on diabetes cure through diet.
Click here to listen to the recording of first episode of Good Vibes Twitter Space – a conversation with Dr. Rahul Baxi and Ms. Ujjwala Baxi, moderated by Sandeep Mall.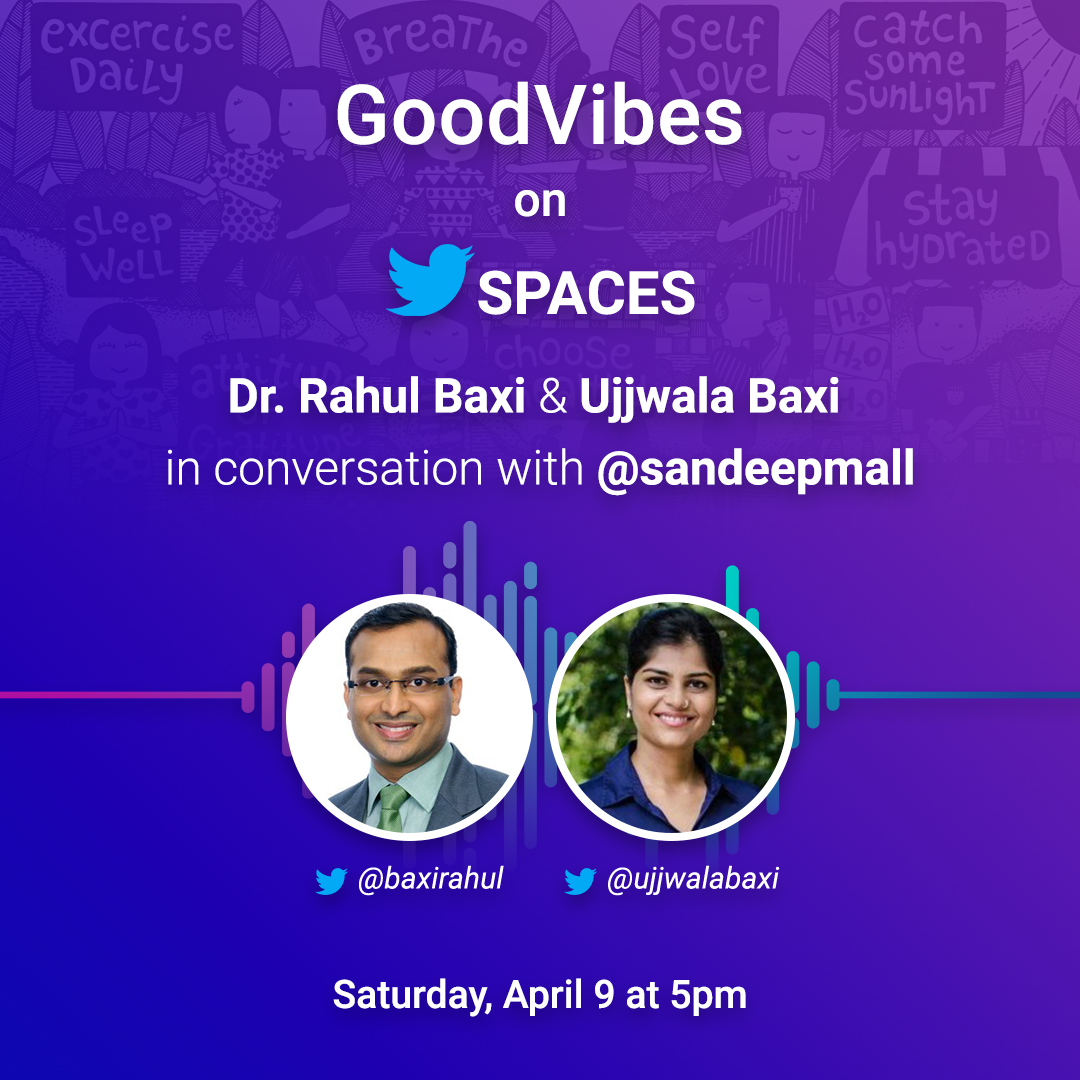 Diabetes, one of the most prevalent and widespread lifestyle diseases across the world, is strengthening its grip world over. Dr. Rahul Baxi explained about Diabetes in simple terms, including different type of diabetes – Pre-diabetes, Type 1 and Type 2 . Diagnosis of Diabetes parameters is based on numbers. These parameters are based on American guidelines. Dr. Baxi alarmed us of Diabetes being a Silent Killer as it is undiagnosed in a large number of people, due to its asymptotic characteristics. He reinstated, "If diabetes is not treated at the right time, then the consequences of the same can be life threatening, since diabetes primarily affects the cardio- vascular system in the body". The conversation further ventured into how food/meals is also one of the major factors which causes diabetes. Fad diets, trending diets, irregular meals, junk foods also cause diabetes. Ms. Ujjwala Baxi said, "An ideal diet combined with exercise prevents onset of diabetes in any individual".
Sustainable diets are the key to prevention and long term cure for diabetes. Ms. Baxi stressed on the importance of a balanced diet, which could be squeezed into the lifestyle. One of the key things that Ms. Baxi stressed upon is keeping a check on your weight and taking prompt action to reduce if you notice weight gain. Taking balanced diets in all the nutrient components, small frequent meals, are effective in maintaining a healthy lifestyle and preventing diabetes. An individual should not follow any diets blindly.
Dr. Baxi also enlightened the listeners about various types of medical treatments available for diabetics. "During the last few years, many advancements have been made in the field of medicine, to treat patients better and bring them to a remission stage of diabetes".
Discussing further, an important point was raised on how to introduce sugar to young kids and young adults. Ms. Baxi shared important insights and provided helpful alternatives to sugar, to introduce sugar in the diets of children/kids. Healthy eating habits and laying strong foundations are essential for better health of children.
Ms. Baxi also shared tips on how to consume popular meals like 'aam ras', sweet potatoes, etc.
Given the 21st century, stress is also considered to be one of the factors in inducing diabetes in an individual. Acute stress in an individual will have a sugar spike and an increase in diabetes. Dr. Baxi reminded us that stress affects our bodies in more ways than one.
The Twitter Space session ended on a positive note, inviting questions from the audience. After sharing and imparting knowledge, one can rightly say that diabetes can surely be managed well with a healthy, active lifestyle, which incorporates medicines, nutrient rich meals and a proactive approach to lead a better life, physically and mentally.