1) When and why you decided to transform?
I lost 40 kgs at the age of 40 in roughly about 6 months – One of the most transformative and audacious journeys I have experienced in my personal life. I decided to get on my transformation journey last year in August. I used to be in sports in my school and college days, however, 15+ years of corporate life and other such excuses had let me to completely give up on sports or any kind of physical activities leading to addition of many unwanted kilos to my body – I was 105 kilos when I started my journey.
There were two triggers – one was the realization to do something meaningful for oneself during these unprecedented times rather than meandering along and the second one was to get back the ability to keep pace with my 4 year old daughter !
2) The struggle that came with it?
I think the struggle was only till the point I made up my mind that I wanted to get on to this transformation journey – everything else fell in place after that. Magnitude of that struggle can be ascertained from the fact that it took me almost two decades to get the realization that I needed to do something around my own health and fitness
3) The obstacles?
Changing your lifestyle and mindset which had been formed over many many years was the biggest obstacles I would say
4) What all changes you did in your lifestyle?
There were many – completely giving up on sugar, cutting down on carbs significantly, having a protein rich diet, bringing discipline around meal timings, ensuring 7-8 hours of sleep, measuring your weight every single morning, following a fitness regime religiously, intermittent fasting – were some of them
5) Role of family and friends. Any special person you would like to acknowledge?
The entire family – mom, dad, wife and my four year old daughter – played their part but if I had to pick one person who contributed the most in the journey then it would be my mom. Without her support and constant experimentation with my dietary requirements, there is no way I would have achieved this.
6) How are you helping now other achieve their goal?
I published a blog on my learnings from my journey and shared it on my social media handles. I was pleasantly surprised by the kind of response I got from friends, family and complete strangers. I have lost the count of people who have reached out to me to understand the specifics about my journey and majority of them have embarked on their own journeys now, which does bring a smile on my face .
7) Add a bit of your background?
I currently hold the position of Vice President – Human Capital at Omidyar Network India ONI), which is one of the world's leading impact investing organization. At ONI, I support our portfolio of entrepreneurs in India, with a focus on organization design, change management, talent management and executive coaching. I have been recognized as one of the Top 25 Future HR Leaders of the Country by People Matters & DDI, International. Iamalso the recipient of HR 40 Under 40 award by Jombay for the year 2018. I am a regular speaker at many conferences on topics like Compensation, Talent Management and Gen Y.
I come across as a culturally sensitive and a cutting-edge visionary with an extensive experience of over 15 years. My key track record includes setting up of HR function from scratch in both small and mid-sized organizations, leading strategic initiatives towards compensation and benefit management, improving HR Systems, policy reforms and process enhancement.
I am a Bachelor of Engineering (B.E) in Electronics and Telecommunications from The Army Institute of Technology, Pune and hold a Post Graduate Diploma in Personnel Management and Industrial Relations (PM&IR) from XLRI School of Business and Human Resources, Jamshedpur.
8) Before and After pic ?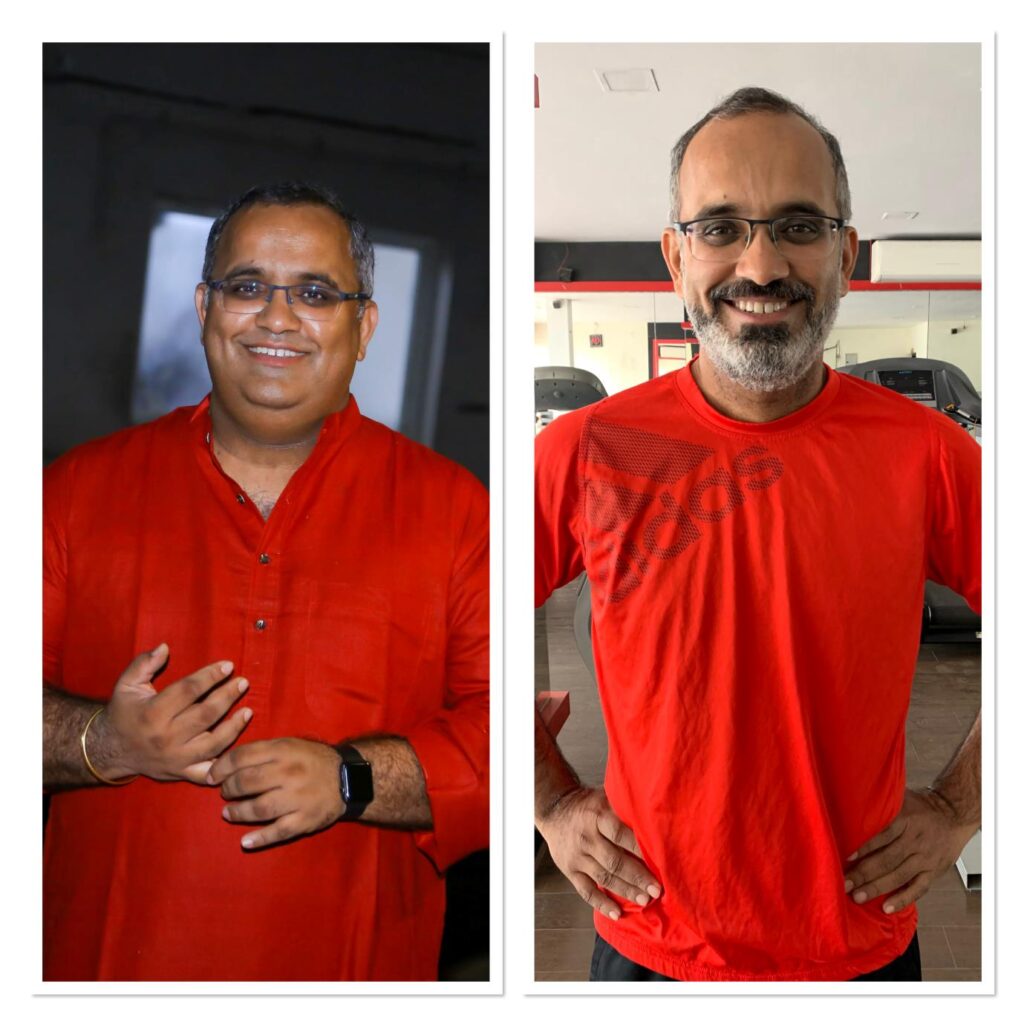 1st September 202028th February 2021
9)Social media handles
Linkedin – @saurabhnigam
Twitter – @sznigam
10) Message for those who aspire to transform?
My message are the three learnings which I have written in my blog –
1. The universe has extraordinary ways of reaching us. We must keep our eyes and ears open.
2. A strong purpose needs a stronger support system. We must identify it and value it.
3. If you want something bad enough, you will find a way. If you don't, you will find an excuse.