1. When and why you decided to transform?
Running journey in two phases. Phase 1 from 2010 to Dec 16, 2018 when I was just running, no focus on diet or strength training or new training plan. The objective was to loose weight taking into account that I was a bulk-head weighing nearly 98 kg and possibly may have touched 100 at some point of time. The real transformation started from December'2018 onwards when I shifted the focus to MAF Based Running accompanied with Intermittent Fasting.
Why Did I Decide to Transform: Like I mentioned that I had been running since 2010 with hardly any focus on diet, training plans etc., and it used to be very embarrassing for me as the rest of our Running gang used to cross the finishing line much earlier and they would wait for me. And also when I used to tell people, primarily Non-Runners, that I'm into running, their expressions are like "Dude, your body does not in any way reflect that you are a Runner" OR Questions like "Samir u run so much, but, u still continue to be bulky, fat and overweight".
Another reason to transform was shopping for clothes and had to look for Plus Sizes.
2. The struggle that came with it?
Well, MAF Based Or Heart-Based Running was tough and so was Intermittent Fasting. It took almost 6-7 months before I could balance both HR Based Running & Intermittent Fasting. Today, it is a part of my daily routine. Intermittent fasting is anywhere from 12 hours to 18 hours and at times 20 hours as well. All my runs are within the HR Zone 3 (Aerobic) with Intervals and tempo runs thrown in between.
3. The Obstacles?
Well, running slow to run fast is not an easy task. To keep a strict control on the pace so as to ensure that the HR remains within the Aerobic Zone was tough. Other than that was to resist heavy, fried, junk food especially when one is following Intermittent fasting.
Another obstacle was the body started getting into shape, the clothes became over-sized as getting fitter and leaner is not Cheap. It is pretty expensive as Jeans, trousers, T-shirts had to be altered for a fitter Sammy boy to fit in. So, anyone who is looking at getting fitter, please bear in mind, it is expensive.
4. What all Changes you did in your Lifestyle?
Like I mentioned above, one of the major changes made to my lifestyle was to adopt "Intermittent Fasting". Initial days and weeks were tough, but, then with passage of time, the body got used to it. In the beginning, I used to break the fast say after 12-14 hours with a Parantha or Poha and as the body got used to the concept of Intermittent Fasting, the fast was broken with a bowl of sprouts or water-melon or Museli with Curd & bananas. And after sometime, the body started rejecting any heavy stuff.
Shifted focus to increase intake of Proteins in the form of Almonds, Boiled eggs, Paneer, Flax Seeds, Chia Seeds etc., My cousin Brother, Shantanu, had in a long 30-45 minute Monologue in 2016 had stated the benefits of increase in Protein Intake and how it helps. I ignored it at that point of time, but, come 2019 onwards, focus is Proteins.
And then fell in love with "Black Coffee", the true love, the Elixir, the Bliss.
5. Role of Family & Friends?
Any special person you would like to acknowledge: Needless to say that without the support & understanding of the Family, this journey would not have been possible at all. In fact, on days when I sound irritable my family asks me, "did you go out for a run today?" And if the answer is "NO", then, it is an order from them "Get out and Go Run as Post-Run you will be in a better frame-work of mind to do the household work".
Well one of the biggest takeaway of this Running Journey so far have been the wonderful & awesome bunch of lifelong friends….Prashant, Vivek, Suvrat, Raj, Yogesh, Sunil, Aman, Amarpreet, Raghav, Teena, Rupesh, Shailesh, Mandeep, Sandeep, Nitin, Pankaj, Amit, Amresh, Praveen and many more.. They are my extended family now. All of them have inspired me and pushed me towards becoming a better, improved runner in more ways than one.
6. How are you helping now others achieve their goal?
Well, seeing my transformation, a number of my running partners shifted to Intermittent Fasting and Heart Based Running as well. Needless to say it transformed them as well and they do owe me a "Royalty Fee" 😃😃.
7. Add a bit of your background?
Based out of Noida since 1989 and have been working in the Private Sector areas like Courier, Freight-Forwarding and now LPG since 1996. All these 10 years of running have been a revelation and a learning experience for me. Understood and realized the immense and the unlimited potential which the human body & mind has. There have been so many runs where it the spirit and the heart which has made me run when the body had given up… Understood that everything happens for a reason, we come in contact with people for a reason & whatever is happening it is happening for our benefit and well-being.
From 2 hours 38 Minutes for my First Airtel Half Marathon in 2012 to 2020 Airtel Virtual marathon in 1 h 56 min, my journey has been nothing short of magic!!!
From 1 Hour 24 Minutes for my first official 10 Km run in 2012 to 54 Minutes in 2021 for Bangalore TCS 10K… Pure Magic!!!
From 5 Hours 55 Minutes for my First Full Marathon in Mumbai in 2015 to 4 Hours 55 Minutes in IDBI 2020… Pure Magic!!!
8.Before & After Pic: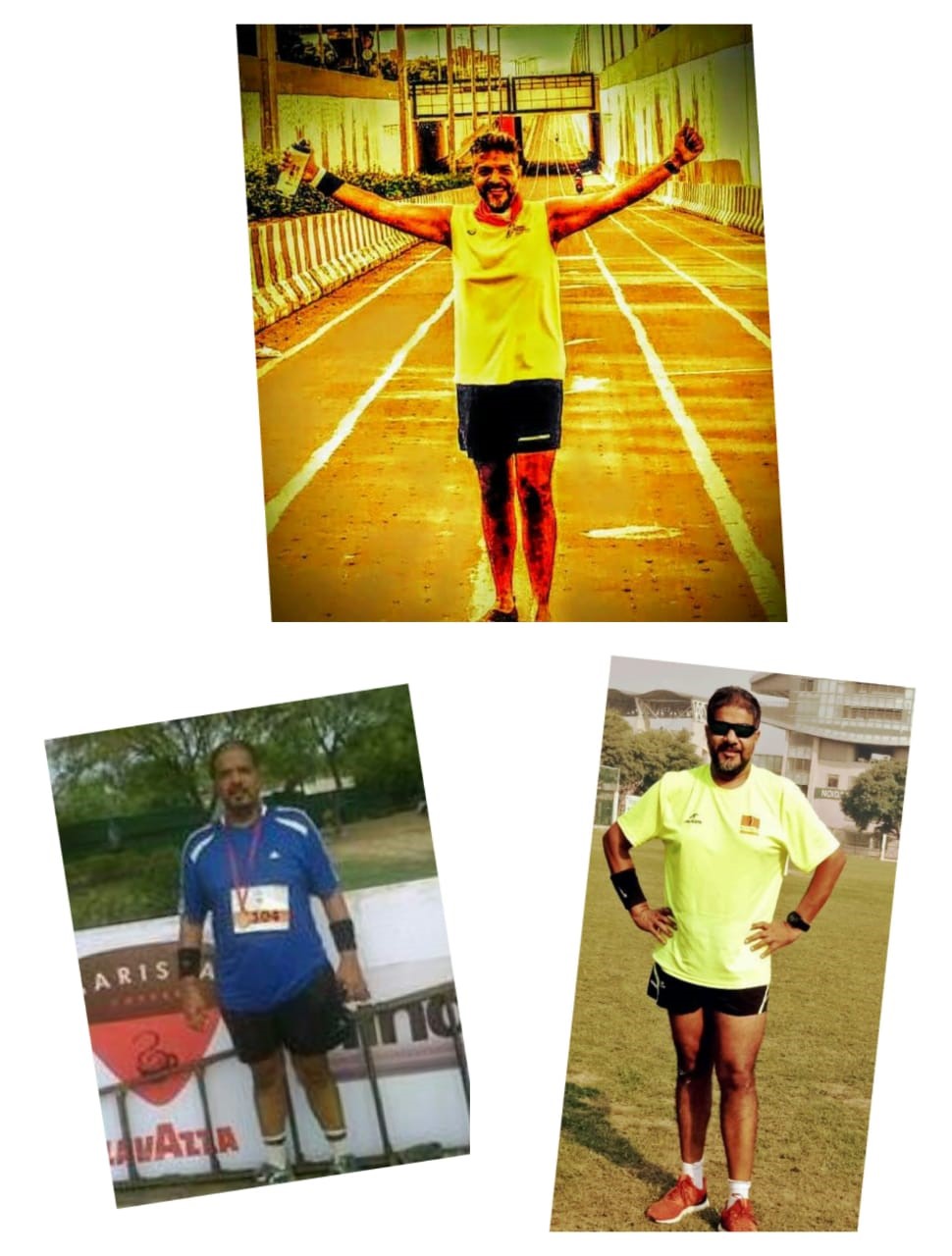 9.Your Social media Handles?
Twitter: @samirsuri1997
Insta: https://www.instagram.com/samirsuri07/
Facebook:
https://www.facebook.com/samir.suri.77/
Linkedin: linkedin.com/in/samir-suri-a1a3269
10. Message for those who aspire to transform?
To everyone reading this, if you are yet to begin your fitness journey, do it now. Get off your bed, get to the roads or park. Begin with whatever your body can endure. Say, just a short walk. But get to it daily. Better it each day, one day you will be running 10-20-40 km at ease.
Like they say "If you want to understand Life, Run a Marathon". Yes, Running helps you understand life, value of every step, value of every second. I firmly believe in the saying "One Step at a time, Keep moving forward and eventually you will reach your goal and beyond".
Now daily running and work-outs are done not only with the objective of losing weight, getting fitter, but, it has got more to do with the positive feeling, positive vibes, the energy, the excitement that they bring once done.
One of the most inspiring quotes for me throughout this journey has been:
"Let me tell you something you already know. The world isn't all sunshine and rainbows. It is a very mean and nasty place and it will beat you to your knees and keep you there permanently if you let it. You, I, or nobody is going to hit as hard as life. But it isn't how hard you hit; it's about how hard you can get hit, and keep moving forward. How much you can take, and keep moving forward. That's how winning is done. Now, if you know what you're worth, then go out and get what you're worth. But you got to be willing to take the hit, and not pointing fingers saying you isn't where you are because of him, or her, or anybody. Cowards do that and that isn't you. You're better than that. But until you start believing in yourself, you are not going to have a life.– Rocky Balboa"