1) When and why you decided to transform ?
I started my journey during 2020 lockdown (end of July 2020). I was into training from around 1.5 years but was not getting results, results as in I wanted to lose but was not able to because of not planning nutrition and training. Falling for fad diets was also one of the reasons for not achieving desired results. The only reason I decided to transform was I wanted a physique which is better than the end of july 2020 and a healthy routine where I can enjoy food by eating in moderation.
2) The struggle that came with it ?
Major struggle was "lockdown" because I have to push myself daily for home workout. Home Workouts are not easy especially when you are restricted with a pair of Dumbbells. All you can do is focus on body weight training along with making the best use of whatever is available.
Another thing was "people around me"- Always demotivating and saying stuff like "you are a girl, focus on other things and not on training" etc.
3) The obstacles ?
In October 2020, during my transformation, I was tested positive for Covid. After around 15-20 days, I was weak and unmotivated. At that moment, there were two ways in front of me:
1. I should continue training and nutrition and progress slowly again.
2. I won't be able to do anything now, I am weak.
I took the 1st way and started again. Started with lifting light weights, till that time, gyms were allowed to open. And at present I can proudly say that I am way better than what I used to be during 2020. Focusing on health not only improved my physical appearance (secondary it is), it has also improved my mental peace, ability to handle situations patiently and have made me more disciplined.
4) What all changes you did in your lifestyle ?
The first thing I did was "bought a kitchen weighing scale".
Then because I was not used to measuring food, I started with measuring whatever I eat in a day for a week. After a week, I designed my nutrition plan based and then incorporated it in my daily routine.
I wrote all the things I have to do in a day on a page (the daily stuff) and then scheduled every single thing so that I can stay on track and manage everything properly.
If I point out major change in my lifestyle was to get up early at 5:30 A.M and planning the whole day so that when I will sleep at night, I will be proud that "I did managed well today"
5) Role of family and friends ? Any special person you would like to acknowledge ?
My family and friends were supportive every time. There were few friends who were always demotivating and were like "ek he to life hai jee le", I started maintaining distance from them.
My mother has played a huge role in managing my nutrition. She has prepared my meal (Lunch) daily as per my macros and everything. Whenever "I felt like I would not be able to do it, I am giving up now" , my mother and my younger brother were there to give a boost to me.
I would like to thank a person "Chirag Barjatya", I met him on twitter and he was the one who made me start my journey and have been really very helpful throughout. Also he was the one who made me start my journey as a coach (in process) and over social media as a person who can influence others.
6) How are you helping now other achieve their goal ?
I will be coaching once I complete my Course. Till then I am trying to make people aware through social media platforms about training and fitness. I learn and I share.
Also I am consistent in posting my workout videos so that people can get influenced and start their own journey.
7) Add a bit of your background ?
I live in New Delhi, 22 years old and a CA Final Student who along with becoming a Chartered Accountant aspire to become a Fitness Coach and help as many as she can.
At present I am doing Articleship from a well-known CA Firm also.I am into sports from school time. I was a part of my School's Throw Ball Team, represented my school in Badminton Zonal, Inter school skating and Races. I love sports and as a part of cardio in my routine I play one of the sports. I love to learn about nutrition and training.
8) Before and After pic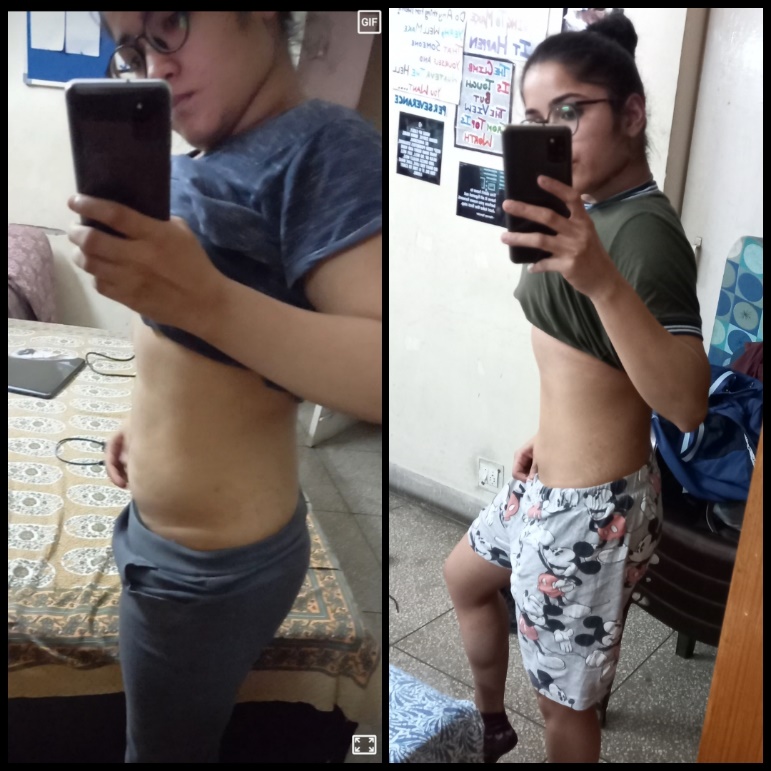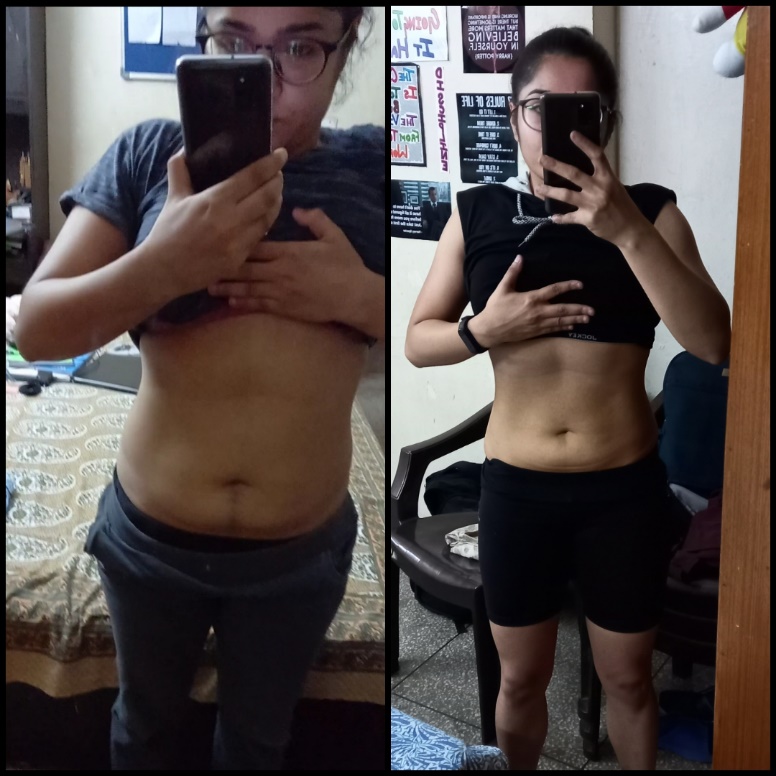 9) Your social media handles ?
Instagram: prichha_chawla
Twitter: prichha_chawla
10) Message for those who aspire to transform ?
Make your mind and start your journey. It might get difficult at certain points of time but it is never impossible to transform. And those who say they do not have time, friends, every person has time for himself/herself. It is just a matter of priorities. Set yourself as your top priority and see how you will be able to manage everything.
If I can do it, anybody can do it. Setting your mind in the right direction and then planning is all what you need. I know, everyone fails, not everything happens as per our plan but that does not mean we will stop. We will modify our plan depending upon the situations but stop? No, Never.