1) When and why you decided to transform ?

I have struggled with being obese for most of my 35 years. I was born with a weight of 9.5 pounds. I was a 'FAT' kid as termed by most of the people around me. With it came a lot of bullying and name calling right up to now. Body shaming was a part of my day you could say. You name the nutritionist in Mumbai. I have been a patient with most of them. But I always would lose weight and gain it all back. I was a horrible emotional eater. Food gave me solace. If I was too happy I wanted to eat l, if I was too sad I wanted to eat and so on.
Back in 2014 after a failed abusive marriage, I had nothing to look forward to. That's when I decided to give it all and channel my frustration into getting fitter and better. My weight was 109kgs at that time. The heaviest I have been. I was under a nutritionist and exercised and in 9 months knocked off 44kgs. I maintained this new weight upto Aug 2016 and then tragedy struck. I lost my younger sister to Dengue all of a sudden. The shock was so deep set that I dealt with it by mindless eating and life went downhill from there. I had lost all hope, motivation and drive in life.
I remarried in 2019 and kept piling on weight enjoying the so called 'Honeymoon Period and didn't realise till I started having health complications such as fatigue, irregular periods, blackening of the neck, extreme joint pains and so on. I started my weight loss journey in March 2020 n here I am today 34 kgs lighter, fitter and confident.
2) The struggle that came with it ?

12th March 2020 I commenced my weight loss journey and lockdown happened. I was so stressed as to how I would go about it. But on the other hand I had all the time in the world to go about this journey. I ate healthy and followed a nutritionist; I worked out 6 days a week ( just walked for 7-8 kms as gyms were shut.
3) The obstacles ?

On days the rains would strike Mumbai I would do home workouts by watching YouTube or cultfit. And keeping myself motivated was very very important. So I promised myself one thing that whatever happens don't look back and stop now.
4) What all changes did you make in your lifestyle ?

I started eating more healthy and nutritious food. I am a foodie so I actually started becoming less finicky and started enjoying my diet food. I went on intermittent dieting completely cut out night binging ( which previously happened every second day). Never missed my 6 day workouts. And after every small achievement I would reward myself and for the times I bunked my routine I would penalize myself in small harmless ways.
5) Role of family and friends. Any special person you would like to acknowledge ?

Initially it was difficult for people at home to see me go through this. But with time support poured in. My main supporters from day 1 have been My mother, my husband and my nutritionist. They never gave up on me.on days I was down and out they assured and reassured me that I would achieve my goal and pacified and calmed me.
6) How are you helping others achieve their goal ?

A lot of people around me look upto me now and ask me how I went about it and how I do it. I spell it out for them each and every detail. I counsel them when they are confused and also keep checking on them and motivate them by narrating my experiences.
7) What is your background ?

I come from a ujarati business family background from dad's side and husband's side both. We are born foodies. Food is Bae and life for us. I help my husband do his business on days when I'm free. We are opticians.
8) Before and After pictures ?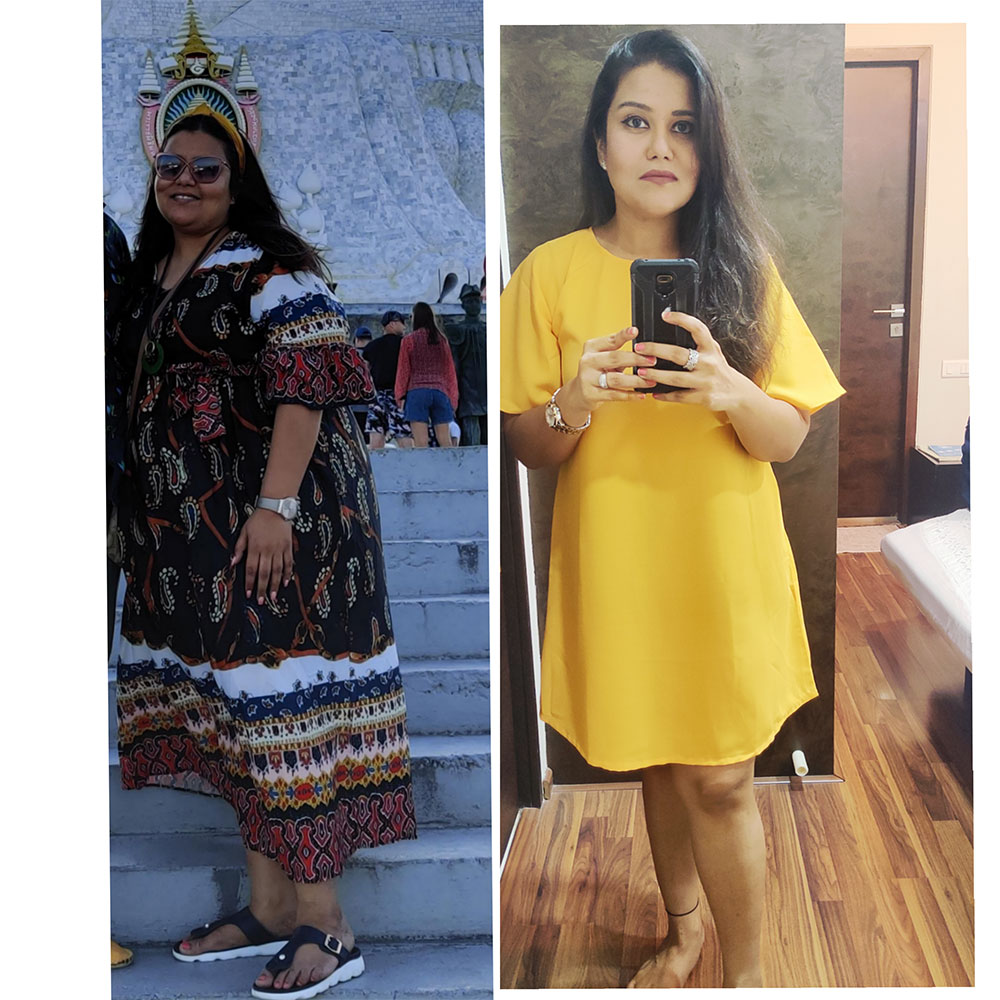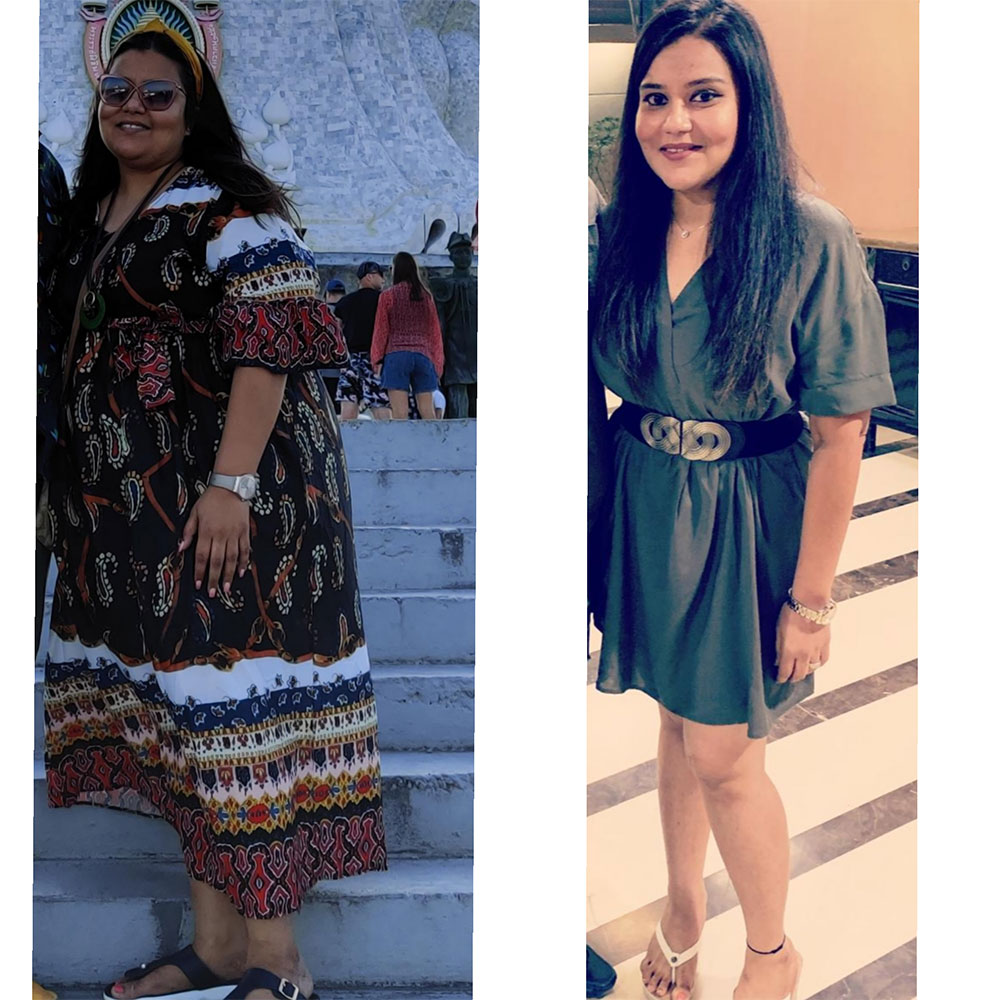 10) Message for those who aspire to transform ?

Getting Fitter is a process that can't happen overnight. Give yourself the patience to accept that. Take as much time as you need before taking up the goal. There will be days that you will be 100 percent motivated and there will be days you wouldn't wish to do anything at all.
Patience and consistency is the key here. Sign up with a nutritionist, if you think that will help you keep a tab on your routine. Surround yourself with people who understand the journey as a lot of support and love will make it easier.