1. How I gained weight?
I was into the hospitality industry helping my dad's business until it went down, I was on my own from a very young age having breakdowns and family issues so regularly that it led me up to depression.
2. The struggle that came with it?
I spent over two years on medicines that would put me to sleep. Eating disorder always follows when you're idle or plainly off a normal human lifestyle. I used to sleep in the day, wake up at 2/3 am and spend the night with my thoughts.
3. When did you decide and what motivated you?
A meme that caught my attention was how NY resolutions are a joke so I just gave it a thought to hit the gym and give it a go.
4. Obstacles in your journey?
People telling me how everything I did was not right and the way they've learned would sail my boat better, Choosing not to go out as much as people my age usually do, finding Dark clothes so I can focus and not think about my falling flaps
5. When did you achieve your desired result?
My only goal when I saw the change was to remain and keep myself active and happy, I always will be. Never-ending!
6. How are you helping people now?
I have a fitness studio called Gypsy – @gypsy_fitnessclub I have started training and consulting a few people. Helped some with time & knowledge, some with just mutual research discussions and revisions
7. Tell us a little bit about your background – your family, your birthplace, your childhood?
8. When did you realise your passion?
Passion would not justify my work here, it was just a fun activity. It still is.
9. Before and After pics?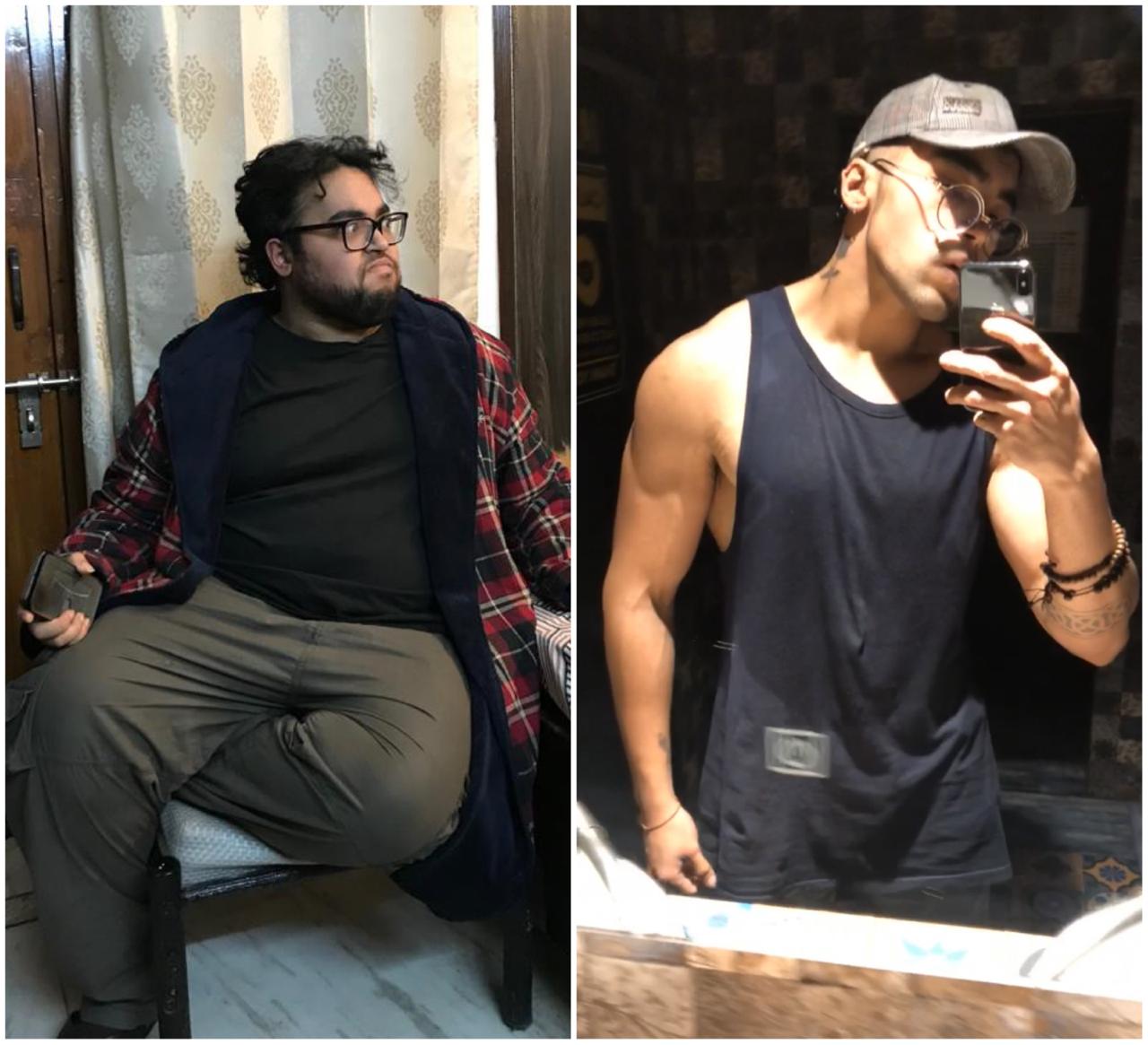 10. Did you face any backlash from family, community or relatives?
You have to say 'No' to family plans, friends that plan dinners on every other evening or simply making it look stupid as they'll always feel it's so lifeless.
11. What were your motivation sources?
Everyone who tries, even if it's slow and steady. Everyone who wants to, everyone who is had yet is all humble and helpful.
12. Any specific challenges you had to overcome?
My worries about loose skin and intense cardio sessions making it even worse. The only way to fill the void is more muscles.
13. Any statistics you would like to share with us?
Losing a kilo overnight, losing a dozen a month, is not worth losing yourself. Take it more healthily, I made many mistakes in the journey but giving all in, always pays.
14. Any extra information or inputs are welcome?
I consult online, I work on diet courses and workout regimes also customized schedules with classic to modern-day dietary. No special inputs but just knowledge and hustle.
15. Social media handles?
Instagram : @labh_mann
Twitter: @labh_mann