My self Darshak Patel. I am a 27-year-old man.
1. When and why you decided to transform ?

In the year 2009, I got some medical issues and the doctor suggested medicines, and it was high in steroid content. my weight-gaining journey started. In the year 2015, I touched 85kg and I accepted. I moved to Canada in 2016 weight was booming and touched 96kg in the year 2017. I am exhausted, no confidence, no attitude, no personality, feeling lazy and nervous all the time. During these times I was suffering from physical aspects, meanwhile, my girlfriend passed away and I broke emotionally too. On August 25th, 2018(On my birthday) I decided to join a gym.
2. The struggle that came with it ?

I had zero knowledge of fitness. Started gym and just like beginners burned calories but the diet was the same so 1-2 kg down in a week and no focus on diet so regained that weight again and I did not know what happened. The reduced portion size of food (still nutritional diet not on point) so reduced that way 20 kg in one year. In the year 2019, I was 76 kg and stuck there for 2-3 months.
3. Obstacles ?

I was living alone by myself away from the family so work, cook, clean and work out so it was hard to balance everything. I gave up for a while and was just doing a workout and try not to gain weight but, the biggest barrier was I reduced weight to 67kg but still, there was 20-22% body fat. After a lot of struggle, trial and error I decided to consult the appropriate person.
4. What all changes you did in your lifestyle ?

March 2020, through Twitter I contacted Chirag Barjatiya. I hired him and he guided me from scratch level. My goal was to get a flat tummy and Chirag told me that you will get abs. I started a strict diet. Measuring all raw food on a weight scale before cook under macros. If I go out with friends, I carry my lunch/dinner with me. For 6 months I didn't test any outside meal
5. Role of family and friends? Any special person you would like to acknowledge ?

I live in Canada so only audio/video calls with parents. My mom always told me that I don't know what you are doing on this diet and all, but I trust you. Want to special thanks to Chirag (the guy I met on Twitter). He is an amazing person and friend and mentor.
6. How are you helping now others achieve their goal ?

After this lot of people contacted me (social media +friends +relatives) I am not an expert, but I am always ready to help. I guide them, suggesting exercise, diet, motivate them. fortunately, I helped one of my aunts to reduce 7kg weight and one friend to reduce 10kg weight. I am so happy that people taking care of their health.
7. Add a bit of your background ?

I am an electronics engineer, so my job is sitting 8 hours long and no physical work. But my daily schedule is quite fixed. 8-hour job, 2-3 hourcooking (cook 4 meal by self), 1.5-2 hour workout (6 days), 7-8 hour good amount of sleep
8. Pictures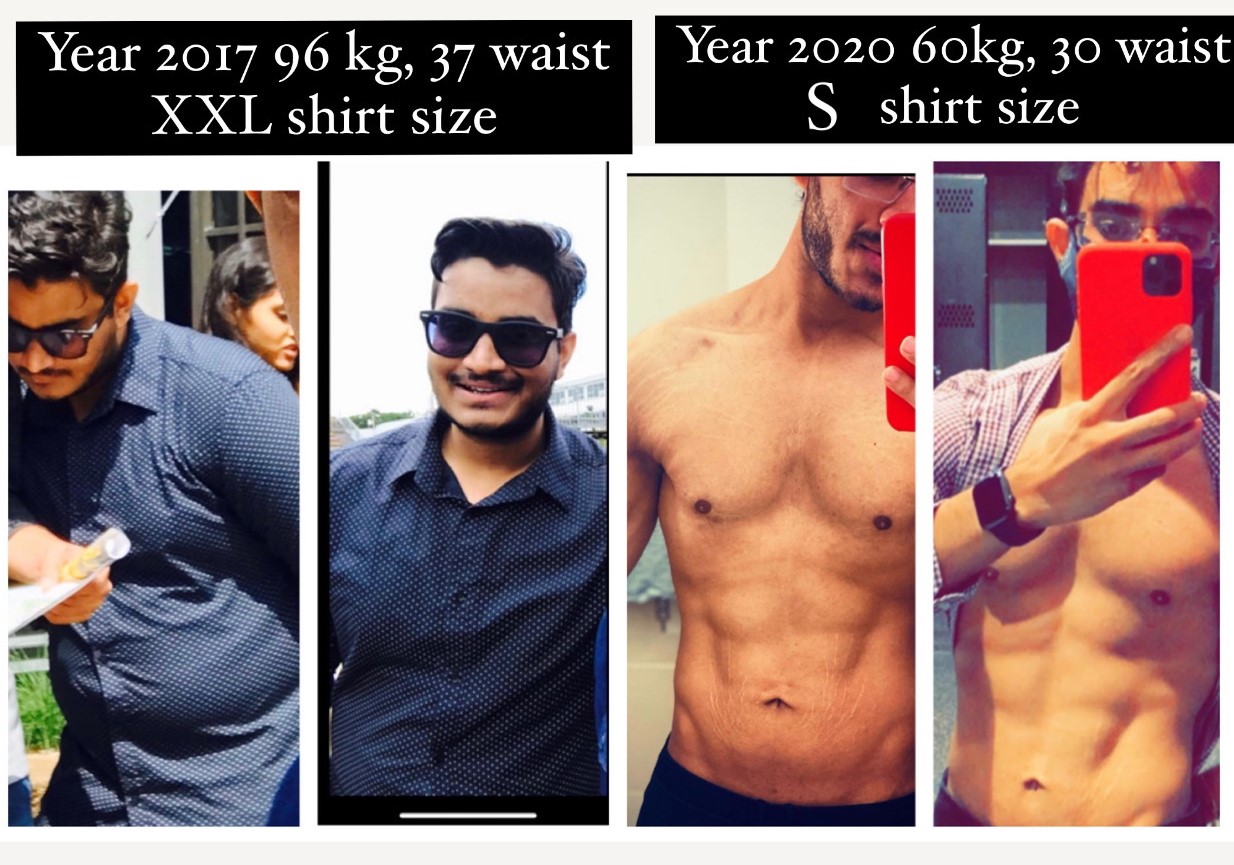 10. Message for those who aspire to transform ?

No diet is perfect, no exercise is perfect. Only consistency, determination and burning desire. Always lean on ups and downs. don't worry if the weight scale goes up, you still can do it. No matter where you are if one can then anyone can do it. Good health is a good life, good mental health, good family. One good meal can't make you fit and one unhealthy food can't make you unfit. It is all about the daily process. Once you in this path nobody can break you. Live life happy and full. You will be proud one day and this will bring a million-dollar smile and satisfaction.
"First they laugh at you, and then they copy from you"