How I changed "Weakness to my Strength"
My Background?
In the last many years, I have gone through the following health issues. It is longer than our monthly grocery list:
1. PCOD,
2. 1 Angiography,
3. 1 embolization,
4. 1 vascular surgery for arterio venous malformation
5. 1 surgery for calcified mass in the earlier surgery
6. 2 C-section deliveries
7. Lumbar spondylitis later converted into Slip Disc
8. Hip bone twist
9. Plantar Fasciitis for both ankles
10. Both knees osteoarthritis
11. Left shoulder capsulitis (Frozen shoulder) with Carpel tunnel syndrome and nerve pinch
12. Ankle tendonitis due to navicular bone growth
13. C5 C6 C7 disc bulge (Cervical slip disc) with pinched nerve in right shoulder
14. Right shoulder Capsulitis
15. Elevated HBA1C, High Uric Acid & Blood Pressure
16. Elevated Lipid Profile And many more…
Having a severe inflammatory body, I was completely damaged! These problems were endless. One of the doctors said to me at the age of 35 "you are like a 60 year old"! Another said she has psychological pains! I tried everything right from allopathy, injections, ayurvedic medicines, potli therapies, naturopathy, homeopathy and what not. Some results were temporary, they kept coming back. Some results were permanent but took almost a year to recover.
In the meanwhile I gained almost 20 kgs of weight because of lack of movements and constantly resting which has its own problems along with trauma of not looking good. The struggle that came with it.
Last year just before lock down on 12th March I was diagnosed with cervical slip disc and frozen shoulder along with ankle tendonitis. My right shoulder and left ankle were 24 hours swollen and I was suggested bed rest. The National Lock down was declared on 25th March and I didn't get any kind of rest which was advised, but instead there was 4 times more work at home and I was on muscle relaxants and painkillers for whole March, April, May and June.
I was feeling depressed, stressed and the pains brought their trauma which was like haunting me every minute. When and why you decided to Transform: It was a battle for survival and I felt I could be bedridden for my entire life. I decided enough is enough and I need to change it.
It was a turning point of my life after this. I desperately wanted to be fit and was too much stressed with all the pains. My physiotherapists helped me to recover from the pains for the next two months and I started taking diet plans from a Nutritionist.
I started developing interest in diet planning and how it helps recover the body. I got fully involved in my nutrition and exercises told by my physiotherapist & then I inquired about various Nutrition courses. I started with a course in July and it was an awesome journey with Nutrition Science.
I was an avid sports person in my school days and had some interest in health but never took it seriously. I am so happy and proud to tell you with Sports Nutrition I am completely fit and fine today including all my Blood Reports are absolutely normal and I am on Zero tablets!
The obstacles?
It was not easy to control the taste buds but it was a challenge for me. But this time I had accepted every challenge! Diet controlled my inflammation and exercise made my body parts stronger. Initially it was very tough to move, to lift weights, sometimes my body even gave up. But this didn't stop me. I continued relentlessly and the results started showing slowly. I started loving the changes.
Today when I get up I don't have any pains in my body. The complete process of makeover took time. I gave time for my body to heal. It was not damaged in a single day. It caused me stress, pains, patience, mood swings, some new physical changes… but I didn't lose my patience.
I worked on my immunity so much that despite my husband getting covid positive I didn't catch the virus though we shared the same place for 3 days. For the last 25 years, I never took stairs because of the pains. But now I make it a point to take the stairs whenever I get a chance.
What all changes did you make in your lifestyle?
I started getting up early, drinking 2 glasses of water, do pranayama for 20 minutes, cycle for 20 minutes, have protein shake with coconut oil, workout for 45 minutes, keep a watch on what I eat and drink. I completely stopped taking sugar and sweets. I ate only as my nutritionist prescribed. Again in the evening I would either walk 20 minutes or cycle 20 minutes. Fortunately due to the terror of covid I never went out and binge eating was automatically avoided.
Role of Family and Friends? Special person?
When the woman of the family is constantly keeping unwell the family members have to go through a really tough time any one can imagine. My husband and my friend, Samir Bakre, constantly motivated and supported me each and every time and never let me lose hope and we tried the best possible measures to cure. My daughter Ruchika and son Soham also played a major role in my transformation journey.
Passion?
I got my Passion at the age of 41. Today, I am a Certified Sports Nutritionist (K11 School of Fitness Sciences, Mumbai), A ISSA Weight Management Specialist (International Sports Science Association, USSA) and soon to become a Certified Fitness Trainer (K11 School of Fitness Sciences, Mumbai).
Before and After Pics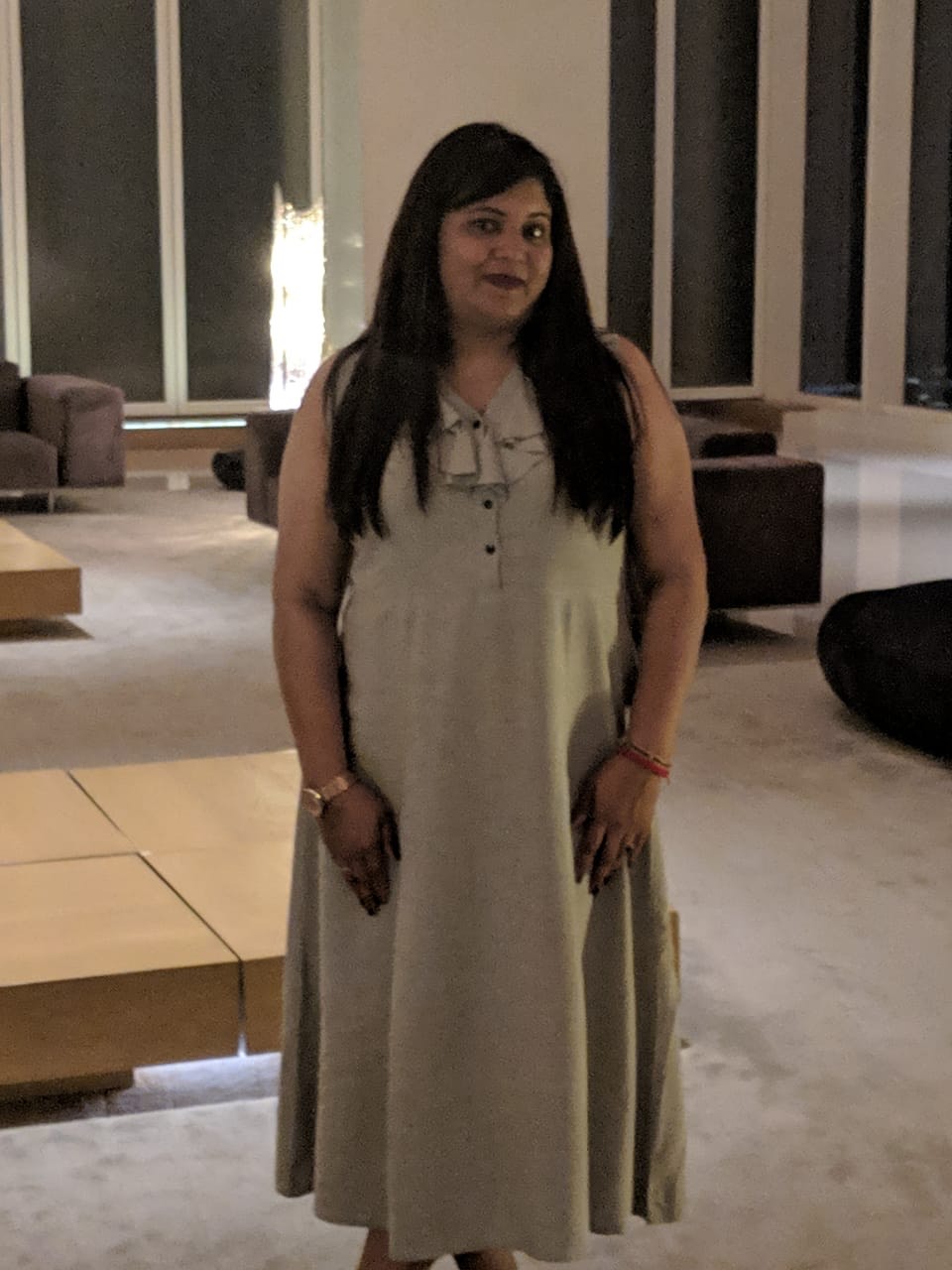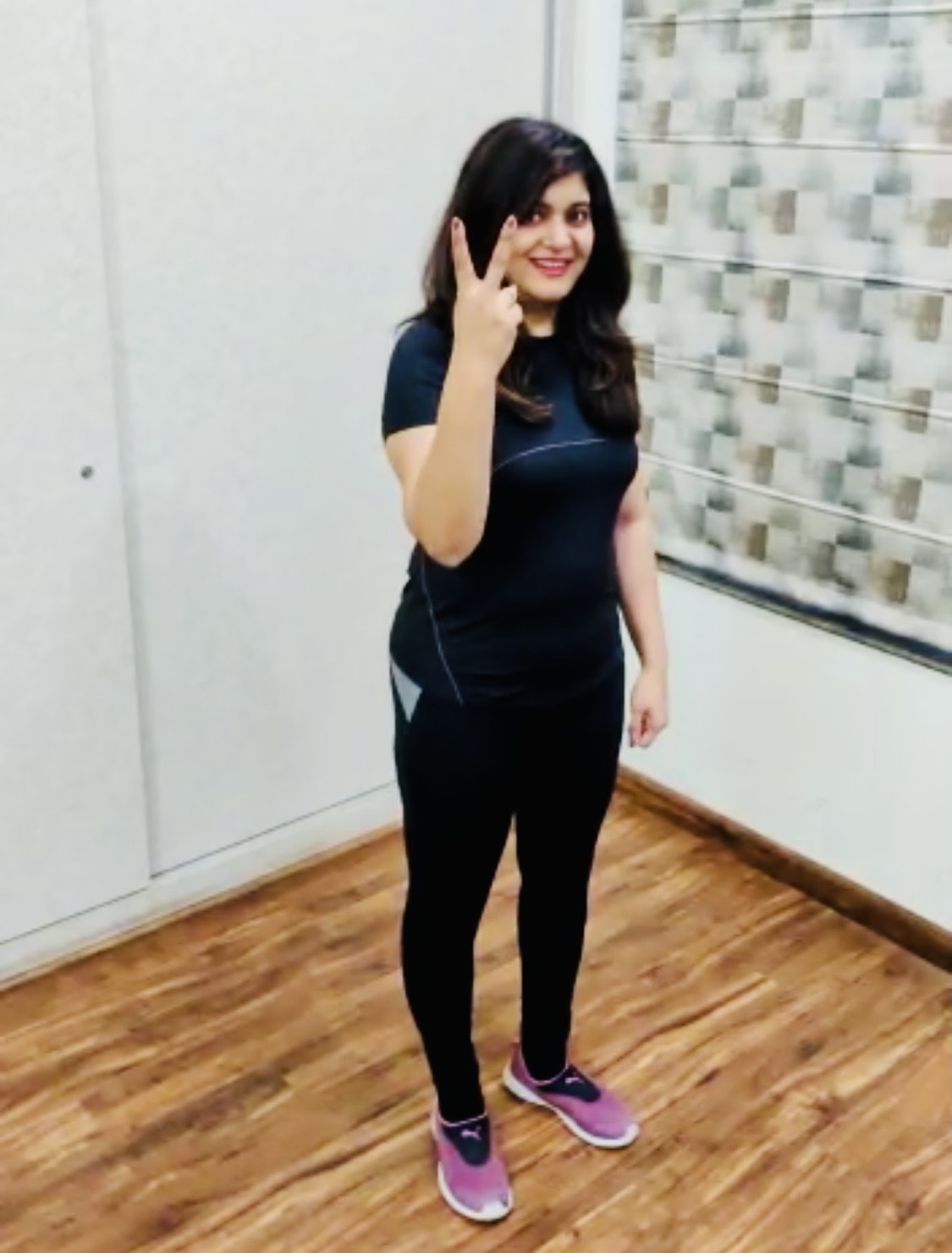 How are you helping others now achieve their goals?
Recently, I have launched my venture "𝐁𝐞 𝐔𝐫𝐬𝐞𝐥𝐟… 𝐆𝐚𝐭𝐞𝐰𝐚𝐲 𝐭𝐨 𝐇𝐞𝐚𝐥𝐭𝐡𝐲 𝐋𝐢𝐟𝐞!" , a consultancy service to completely transform your life through 𝐍𝐮𝐭𝐫𝐢𝐭𝐢𝐨𝐧 & 𝐅𝐢𝐭𝐧𝐞𝐬𝐬 advice. 𝐁𝐞𝐚𝐮𝐭𝐲 𝐛𝐞𝐠𝐢𝐧𝐬 𝐭𝐡𝐞 𝐦𝐨𝐦𝐞𝐧𝐭 𝐲𝐨𝐮 𝐝𝐞𝐜𝐢𝐝𝐞 𝐭𝐨 𝐁𝐞 𝐔𝐫𝐬𝐞𝐥𝐟!
I am passionate about helping others unlock the secrets of better health. Our food choices come from ignorance and are not made with our individual needs in mind but following the crowd! Thus my mission is to help people to improve their health and prevent lifestyle diseases via personalized Nutrition and Fitness guidance.
Last but not the least it's not a 𝐃𝐈𝐄𝐓, 𝐢𝐭'𝐬 𝐜𝐚𝐥𝐥𝐞𝐝 𝐇𝐞𝐚𝐥𝐭𝐡𝐲 𝐄𝐚𝐭𝐢𝐧𝐠!
Health was my weakness; I made it my strength and to never give up on this. In the end, I can proudly say that "I am not a Survivor, but I am a Warrior"