ABOUT HEALTH CHALLENGE 2.0
Beginning of the New Year is when many of us make resolutions and set new personal goals, fitness topping the list for most – so now is the perfect time to begin our 100Day Health Challenge 2.0!
Participating in a health challenge is a powerful way to build the practice of taking care of your physical well-being and if you find staying motivated to be a challenge, being part of a virtual community has been a game-changer for many during the last challenge. Joining a mass fitness drive, like 100 Day Health Challenge, not only impacts your life but also influences your friends, family and virtual networks.
In case if you are wondering where to begin with your resolutions for fitness, your search ends right here!
100 DAY HEALTH CHALLENGE RETURNS!
After the grand success of the first 100Day Health Challenge that took place between April and July last year, the second edition is all set to begin from January 15, 2022 and will be limited to only 1000 participants. The registration will be open from January 4 to January 12, 2022 only.
The core mantra of the Challenge 2.0 is being consistent in building a better version of yourself. To move forward and excel in every aspect of life, you don't need validation from others but to #AdmireYourself first.
The CHALLENGE 2.0 is unique in its format where varied activities can be done and not limited to just a few. Continue following your routine or change your activities depending on mood and interest to avoid monotony from setting in.
You can walk, run, cycle, swim, do strength training, yoga, zumba, aerobics or even play a sport like tennis, badminton etc. The idea is to be physically active and to get into a routine to get into your best shape and #AdmireYourself for the consistency in efforts. You may do activities multiple times a day but not exceeding 2 hours each day. If you choose to work out more than 2 hours, the app will only report the first 2 hours of activities to the Challenge dashboard, in all fairness to all participants.
Let the year 2022, be a year of intentions, goals, discipline and achieving an optimum level of physical health.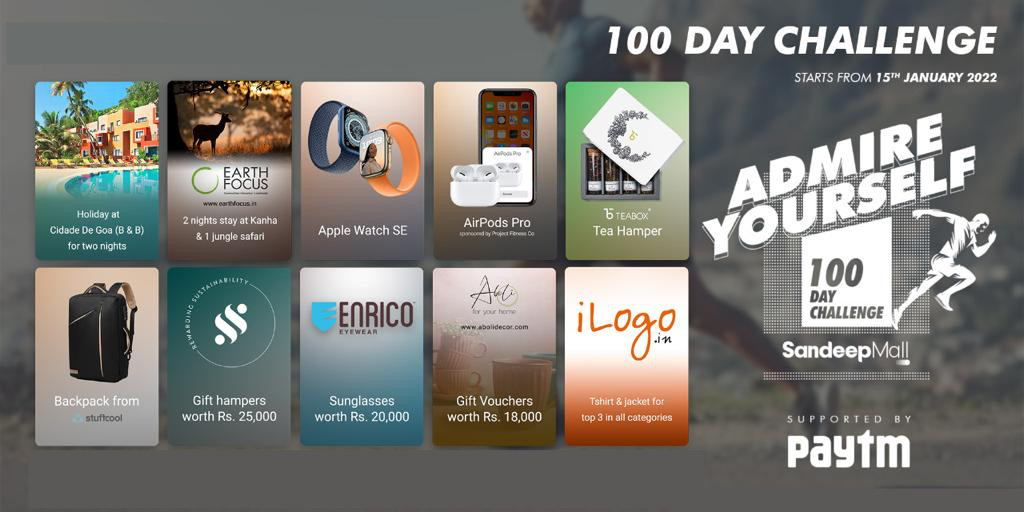 The prerequisites and steps to register for the Challenge:
A desire to get fitter and be a part of an inspiring community.

A smartwatch/device that can track your daily exercise activities.

Download Strava App and register your account there.

Link your smartwatch/device with your Strava account.

Order your 100 Day Challenge custom t-shirt from here and take a screenshot of the payment confirmation.

Then visit the registration link, duly fill in the required information and submit.

If all the steps are correctly followed, you will receive a registration confirmation on the email id you have provided in the form. In case you do not receive your login credentials and registration confirmation in your inbox, spam/junk folder, please write to us at healthchallenge@sandeepmall.com.
In addition to the regular point-bearing activity tracking to keep the participants inspired, this time the Challenge brings a great opportunity to Giveback to a cause, while receiving coaching from the experts.
The Health Challenge 2.0 has partnered with the wonderful initiative of www.earthfocus.in – Kanha Project. As a participant in the Challenge, for a contribution of only Rs. 6, 999 , you have the option to receive one of the following two:
100 days of Fitness and Strength Training Coaching with renowned fitness coach Mr. Chirag Barjatyaa & Project Fitness Company.

100 days of Marathon/Running training and mentoring with Dr. Rajat Chauhan and team at La Ultra.
The amount (Rs. 6999) paid by each participant to either of the coaches, will be matched by a donor and contributed to Earth Focus' Kanha Project.
To read about what both the coaching programs have to offer and how to sign up, click here
To know all about Earth Focus – Kanha Project, click here.
The Methodology – How are the points calculated. The top 3 winners of the Challenge will be decided, based on accumulation of highest points, in 2 categories:
Below 40 Years

40 years and above
There will be special trophies for the top 3 three Women participants.
Participants' activities will be recorded through their Strava app account, and will be auto submitted to the Challenge dashboard. Please read the following point system to understand how the point system will work. Here is a quick glance at the points to be awarded for various daily exercise activities.
Run 2 km = 1 pt

Walk 3 km = 1 pt

Outdoor Cycling /Ride 3 km = 1 pt

Weight / Strength Training 60 min = 7 pt

Swimming – 250 mtr = 1 pt

Yoga 60 mins = 3 points
For any activity apart from the above and not available in Strava, such as Tennis, Badminton, Soccer, Zumba, and others, choose the option – Workout in Strava
Workout (Tennis/TT/Badminton/Soccer/Zumba/Aerobics etc) 60 mins = 3 pt
Data for the following activities will need to be entered manually (screenshots) in the activity login page, starting January 15, 2022.
Steps

4000 Steps = 2 pt

7000 Steps = 4 pt

10000 Steps = 6 pt

Indoor Cycling 60 min = 5 pt
Heart Rate must be visible in the screenshots for Indoor Cycling.
For any query/clarification/discrepancy about the point system, please write to us at healthchallenge@sandeepmall.com.