Greetings from the future – Where are your goals and choices taking you? All illustrations by Kanupriya Singh. 9 min read.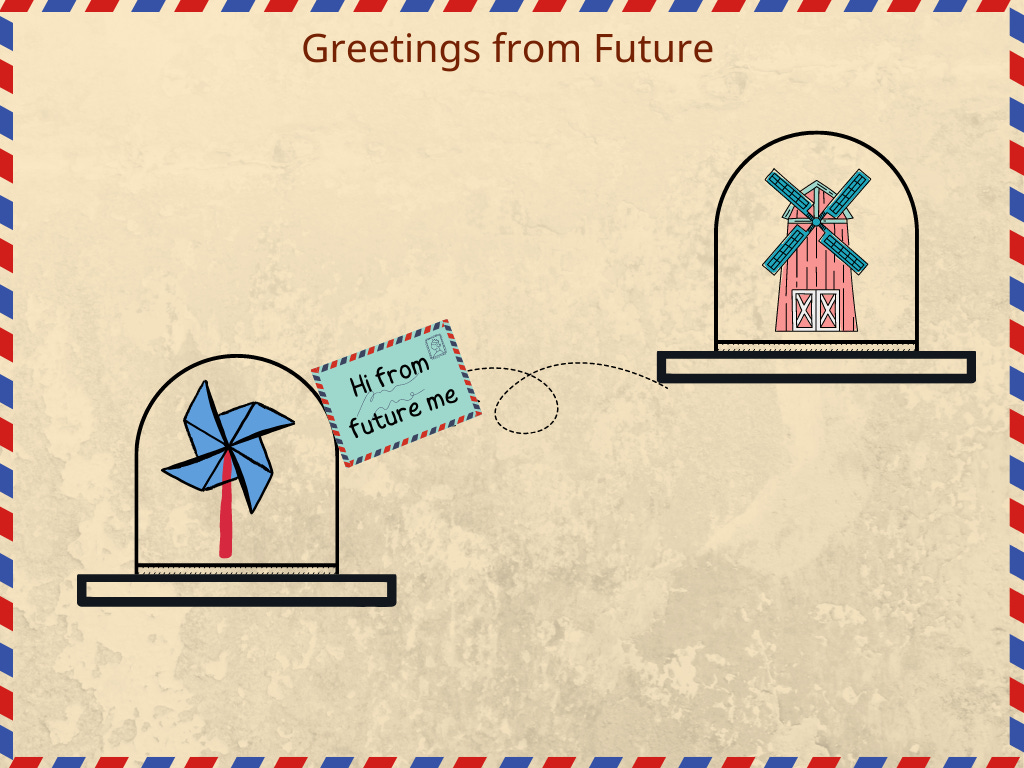 Knowing what we want to achieve and how we envision our future selves is vital for setting effective goals and taking the right actions. Unfortunately, many of us lack clarity in these areas, which can make it challenging to move forward in a meaningful way. It's essential to take the time to design a clear and precise vision of our future selves and what we are working towards.
By having a clear understanding of our aspirations and values, we can align our goals and actions with our vision for the future, increasing our chances of success. Having a precise vision of our future selves can help us stay focused and motivated, even when faced with challenges or setbacks. It can serve as a beacon that guides us towards our desired destination and reminds us of why we're doing what we're doing. This clarity can also help us make better decisions and prioritise our time and resources effectively.
Designing a clear and precise vision of our future selves is a critical first step towards achieving our goals and living a fulfilling life. It's a process that requires reflection, introspection, and careful consideration, but the rewards are well worth the effort.
We often start a change process by thinking about :
What we don't want
For example
I don't want to be carrying excess body fat.

I don't want to feel out of shape.

I don't want to take all these medications.

I don't want to feel clumsy in the gym.

I don't want all of these injuries.

I don't want to feel unattractive and unsexy.

I don't want to feel out of control with my eating.
But it's not exactly a clear action plan, is it? You have to keep going from there to define what you want. How about this?
What you want is
I want to be healthy, with some solid dense bones and muscle.

I want to be in better shape — strong, fast, flexible, agile, and physically capable.

I want to take fewer medications or get off my medications entirely.

I want to feel comfortable and confident in the gym. I want to try some new activities.

I want to feel healthy, mobile, functional, and pain-free. I want to thrive.

I want to eat normally, intuitively, and sanely. I want to nourish my body with wise food choices.

I want to sleep better and feel in control of my stress levels.
Here's an example of an activity you can do for yourself to build a destination postcard.
Imagine you could get a postcard from the future. The postcard shows you exactly what you want to happen in your life journey. It's like "the future you" arrived at the destination and sent a postcard back in time to tell you what it's like. The destination postcard tells you what you want, not what you don't want.
In a year (or 2 or 5 or in your last decade of life) from today, in an ideal world…
Where do you want to be?

What do you want to be doing?

What do you want to feel?

What adventures do you want to be having?

How do these align with your identity, priorities, and values?
Fast-forward and imagine yourself in exactly the place that you want to be.
What's happening in that ideal-world time and place?
Where are you?

What are you doing?

How do you feel?

What adventures are you having?
For example, are you:
playing on the floor with your grandkids?

getting out on a remote vacation, without needing to find a pharmacy for medications?

climbing a mountain, biking across the state, going sky diving, or running a marathon?

feeling like a rockstar?

fitting into your wedding clothes?
You can be anything and do anything. Dream Big! Capture the future you! Capture your vision!
Clip photos. Make a Pinterest board. Draw a picture. Surf the web to find inspiration.
Or, simply write it down in a postcard from your future self.
This resource will guide you through it.
Tap into your imagination. Zone into your superpowers. Think about situations where you feel "in the zone".
Situations in which:
You lose your sense of time.

You're totally immersed in the moment.

Performance and learning just seem effortless.

You feel energised, aware, and awake.

Your whole "self" is participating – body, mind, and spirit.