GIVING BACK WHILE GETTING FITTER
As a special gesture of gratitude, the Health Challenge team has created a unique opportunity for the participants to contribute to a cause we strongly believe in, while getting coached for 100 days, by one of the two experts we have proudly collaborated with.
Renowned Fitness coach Mr. Chirag Barjatyaa and Project Fitness Company

Renowned Running mentor Dr. Rajat Chauhan and team at La Ultra
For only Rs. 6, 999, a registered participant of the challenge can receive 100 days of coaching/mentoring/training from one of the two coaches of their interest. This special initiative is open to ONLY 100 registrants on a 'first come, first serve' basis. For each person signing up with either of the coaches, an equal amount of donation will be made to Earth Focus – Kanha Project. What better way to start the new year – giving back while getting fitter!
These supplementary features of the challenge are available to all the participants at a charge of INR 6, 999/- . The payment made to the coaches, will be matched by a donor and the amount shall be given to Earth Focus Foundation.
We have to help the communities, to provide them a sustainable living & give them a sense of well being, education & security.
About Earth Focus
Earth Focus Foundation, a section 8 , not for profit organisation is based near the Mukki gate of Kanha National Park.
Earth Focus Foundation works in education and nature based livelihoods to improve the lives of local community members and increase sustainable employment in the local context by leveraging community traditions and ecosystem services.
Baiga and Gond communities in the Kanha buffer areas are on the fringe of the conventional development paradigm. They have been uprooted from their ancestral lands and natural cycles. Like many forest dwelling communities around India, they often face challenges over issues as basic as their subsistence. Poor education standards remains as the one main reason why it is impossible for these tribal communities to break out of this poverty chain.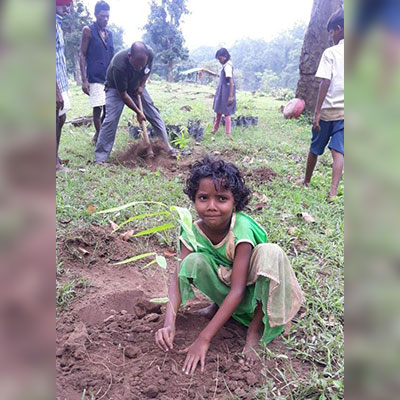 In Kanha, it is possible to place tribal youth and families on fundamentally better life paths while actively safeguarding and restoring the local ecosystem. This requires thoughtful, contextual approaches to both education and livelihoods that harness community knowledge and practices.
Earth Focus Kanha's work in education and livelihoods aims to build dignity and sustainable employment in the local context through leveraging community traditions and ecosystem services.
MILLET REINTRODUCTION PLAN & PROCESSING UNIT
Millets are coarse grains that are traditionally grown and consumed in the Indian subcontinent for over 5000 years. They have high nutritional value and are rich in proteins, vitamins, minerals, and fibres. Unlike other cereals, millets require little water and ground fertility.
Millets have been traditionally grown in the Kanha region, but have largely been replaced by rice. Among the various reasons that have encouraged this transition are unavailability of seeds, drudgery specially for women in cleaning and processing the millets for self consumption , and the unavailability of market linkage / value addition for excess crop.
By setting up a millet processing centre at Kanha, Earth Focus aims to :
Encourage and develop millet cultivation in the barren patches of land owned by the tribal communities. Procuring and distribution of seeds is envisaged so that seeds can be made available to growing number of farmers in the initial years.

Setting up women SHG's and FPO to encourage Millet production, and get the farmers collective bargaining strength for better prices.

Setting up a Millet processing centre which will have machinery for de-stoning, dehulling, de-husking, packing etc , thereby building capacity for local processing. The processed millets would be taken back by the FPO, and also will be used for self consumption by the communities, thereby increasing the nutritional basket of the community.

Provide employment to local youth in the processing centre.

Reduce dependence on rice as the only crop, thereby building resilience.

Reduce usage of water ( rice is water intensive while millets are not ) thereby saving precious ground water resources.
The overall long term gains will be reflected in increased income levels, better nutrition for the communities, leading to higher attendance in schools, opening up doors for the new generation to break away from the poverty cycle.
Earth Focus is investing money to procure land, get electrical connection etc. Funds to the tune of Rs. 15 lacs are needed for construction of building and procurement of machinery. To know more about Earth focus – https://www.earthfocus.in/
To donate directly to Earth Focus to support activities that empower forest dwelling communities through contextual education and nature-based livelihoods, click here.
---
Participants of 100 Day Health Challenge 2.0 will be able to paint a better future for the inhabitants of the Kanha Region by signing up for 100 day coaching services with either of the following two experts.
100 DAYS OF FITNESS COACHING WITH MR. CHIRAG BARJATYAA & PROJECT FITNESS COMPANY
For 100 Day Health Challenge 2.0 – #AdmireYourself, we are proud to have partnered with Chirag Barjatyaa to coach participants for strength training and fitness.
Let's have a walk through on how you can register for strength training workouts with Chirag and his team – Project Fitness Company
Chirag Barjatyaa started a nutrition coaching service as freelancer in 2018, expanded to TeamChirag later in 2019 and now founded ProjectFitCo in 2021. Coached 1500+ clients alone and 3200+ with a team from different parts of the world including Australia, US, UK, UAE and Denmark.
ProjectFitCo is a team of Fitness Coaches, Nutritionists, Mental Health Experts, and Doctors,which makes it a central portal for your physical, mental and gynecological issues. We believe that fitness is more than just losing body-weight and having six-pack abs.
80% of our mentees are from India, and that's why we understand India's food habits and cultures very well.
Program Fees – Rs. 6, 999/-
Inclusions –
There will be group coaching of 25 people in each group along with a workout trainer and a dedicated nutritionist to take care of participant's nutrition.

We will be reviewing their workout form and will teach/correct them about different exercises every week.

The Nutritionist will be sending their respective diet plans (after collecting details) on their email id.

Every doubt/query will be solved on the group itself.

Every week Nutritionist and Trainer both will keep a zoom call to connect with participants and question-answer sessions.

3 sessions with the Psychologist in 100 days

1 session with Physiotherapist in 100 days

1 session with the Gynaecologist (for women) in 100 days

Separate Women's group for privacy and safety.

Daily accountability like step count, workout videos, etc.

Every 10 days check-in through google calendar reminder.
Exclusions –
– No personal call with a coach. (in case, anyone wants that, they can sign up for their regular coaching services)
– No personal chat, until and unless if there is an emergency or personal medical issue which a participant is not comfortable sharing with the group.
– Terms and Conditions remains the same as their regular coaching services:
---
100 DAYS OF RUNNING/MARATHON MENTORING AND TRAINING WITH DR. RAJAT CHAUHAN & LA ULTRA TEAM
For 100 Day Health Challenge 2.0 – #AdmireYourself, we are proud to have partnered with Dr. Rajat Chauhan and his team to coach participants for marathon training.
Let's have a walk through on how you can register for marathon training with Dr. Rajat Chauhan and his team – La Ultra
Dr. Rajat Chauhan is the founder, creator of La Ultra – The High. The idea was conceived in 2009 after he moved to India from London and planned to continue his love for ultra-running.
He and his team, has inspired, mentored hundreds of people in running, marathon training over the last decade. Apart from coaching, Dr. Rajat Chauhan is well immersed in sports & exercise medicine, is an acclaimed author and a columnist.
Inclusions –
We do have a training plan for running, exercises and running drills, but those can be gotten from anywhere on the net. The La Ultra team and mentors will make it unique by supervising your routine and making sure you stay on track.

Twice a week, mentors will check on progress of participants. The communication will only be through messages.

A running mentor will be assigned called Running Mom, who will check on the participants and keep them on track.

There will be exclusive zoom sessions on basics of running, motivation, where the mentors -Running Mom will be joined by Grand Mom – Dr.Rajat Chauhan.

A whats app group/Telegram group will be created where participants can interact with each other. This will work as a motivation and keep us going for the next 100 days.

A unique part will be that the participant will also be mentoring 5 other people in their lives, to achieve a better level of fitness and get moving.
Exclusions –
There will be no medical advice included in this training.

There will be no calls in this training.