ABOUT HEALTH CHALLENGE 2.0
The long and challenging phase of the pandemic has surely taught us how being fit creates resilience to ward off the inner and the outer battles of life in all parameters. We are constantly seeking motivation and inspiration to create a better life. This had led Fit India Ambassador and Deep Health influencer, Sandeep Mall, to start a 100 Day Health Challenge in April last year, which had become a mass fitness drive, with 580 individuals virtually connected to get fitter together.
Read all about the first 100 Day Health Challenge here.
100 DAY HEALTH CHALLENGE 2!
Beginning of the New Year is when many of us make resolutions and set new personal goals, fitness topping the list for most – so January was the perfect time to begin 100 Day Health Challenge 2.0!
Participating in a health challenge is a powerful way to build the practice of taking care of your physical well-being and if you find staying motivated to be a challenge, being part of a virtual community has been a game-changer for many during the last challenge. Joining a mass fitness drive, like 100 Day Health Challenge, not only impacted many lives but also influenced their friends, family and virtual networks
The core mantra of the Challenge 2.0, championed by Sandeep Mall and Supported by Paytm, was to be consistent in building a better version of yourself. Mall believes that to move forward and excel in every aspect of life, you don't need validation from others but to #AdmireYourself first.
The CHALLENGE 2.0 was unique in its format where varied activities were done and the event was not limited to just a few. Participants continued following their own routine or change their activities depending on mood and interest to avoid monotony.
The repertoire of activities included walking, running, cycling, swimming, strength training, yoga, zumba, aerobics, and also playing tennis, badminton etc. The idea was to be physically active and to get into a routine to get into your best shape and #AdmireYourself, for the results that will be achieved with consistency in efforts. Participants did the activities multiple times a day. For those who worked out more than 2 hours, the app was configured to report the best performing two hours of the activities to the Challenge dashboard, to be fair to the efforts.
It was really heartening to see about 1000 participants from across the country and overseas, coming together and making 2022 a year of intentions, goals, discipline and achieving an optimum level of physical health.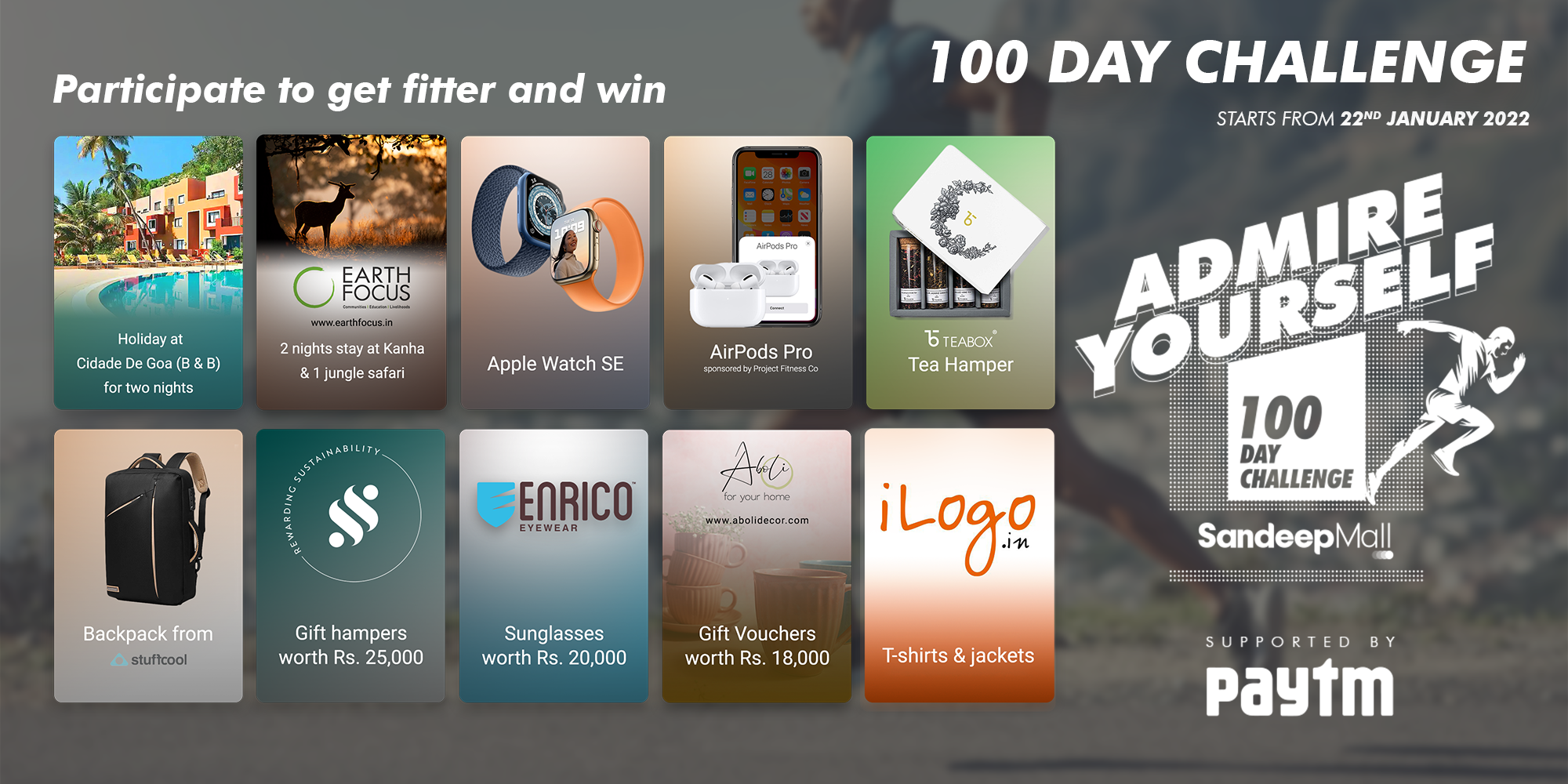 REGISTRATION FOR THE CHALLENGE 2.0
Registration is now closed for the Challenge 2.
THE CHALLENGE METHODOLOGY
Point Tabulation System
The top 3 winners of the Challenge were decided, based on accumulation of highest points, in 2 categories:
Below 40 Years

40 years and above
There will be special trophies for the top 3 three Women participants.
All registered participants submited data of their exercise activities to the dashboard on our website, supported by screenshot from the app they were using to capture the activity details.
Read the following point system to understand how the point calculation and accumulation worked.
Here is a quick glance at the points awarded for various daily exercise activities (based on a minimum duration of 30 minutes.)
Run 2 km = 1 point

Walk 3 km = 1 point
Over 9 mins taken per km was considered as Walk activity only, even if the participant entered it as a RUN activity.
Outdoor Cycling /Ride 3 km = 1 point

Weight / Strength Training 60 min = 7 points

Swimming – 250 mtr = 1 point

Yoga 60 mins = 3 points

Indoor Cycling 60 min = 5 points

Sports & Workout (Tennis/TT/Badminton/Soccer/Zumba/Aerobics etc) 60 mins = 3 points

STEPS (Data to be uploaded once a month after 30-day cycle)

1,20,000 – 2,09,970 Steps in 30 days(Daily Average of 4000 – 6999 Steps) = 60 points

2,09,971 – 2,99,999 Steps in 30 days (Daily Average of 7000 – 9999 Steps) = 120 points

3,00,000 Steps in 30 days (Daily Average of 10000 Steps) = 180 points
((For example, step data for January 22 to February 20 was uploaded by Wednesday, February 23, for data to be tabulated in the following week's leadership board)
Heart Rate was mandatory to be visible in the screenshots.
SAMPLE SCREENSHOTS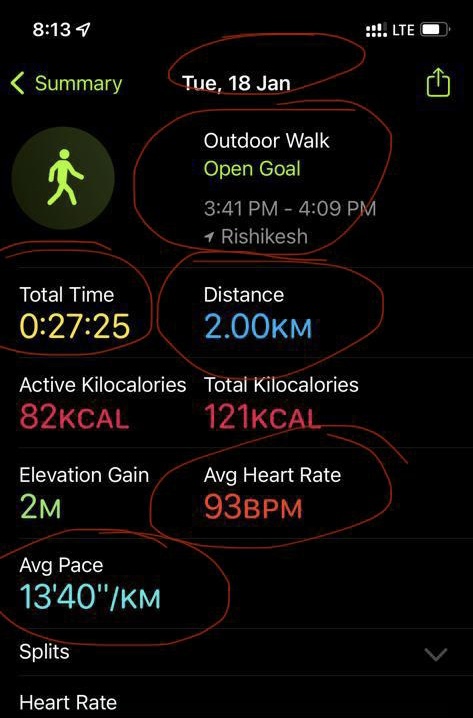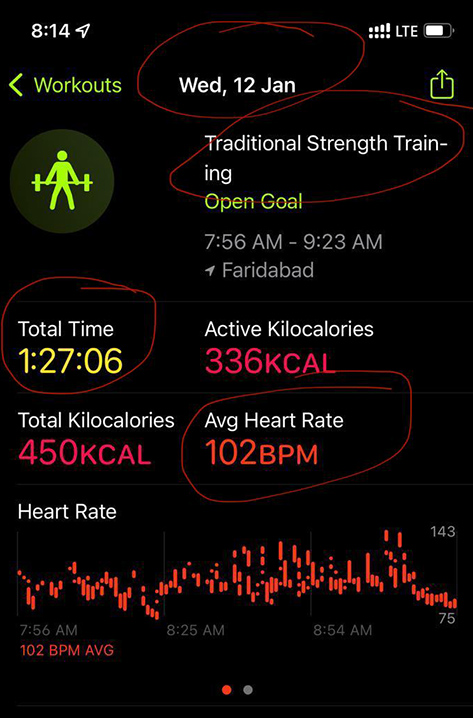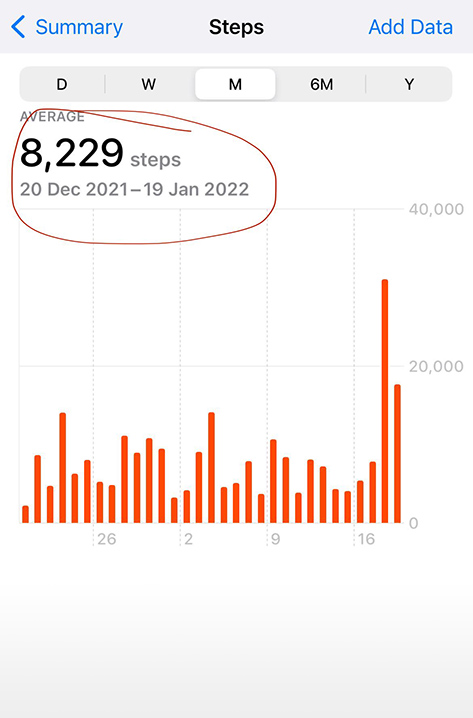 GIVING BACK WHILE GETTING FITTER
In addition to the regular point-bearing activity tracking, this time the Challenge brought a great opportunity to Giveback to a cause, while receiving coaching from the experts.
The Health Challenge 2.0 partnered with the wonderful initiative of www.earthfocus.in – Kanha Project. For a contribution of only Rs. 6,999, the participants had the option to receive one of the following two:
• 100 days of Fitness and Strength Training Coaching with renowned fitness coach Mr. Chirag Barjatyaa & Project Fitness Company

100 days of Marathon/Running training and mentoring with Dr. Rajat Chauhan and team at La Ultra.
The amount (Rs. 6999) paid by each participant to either of the coaches, was matched by a donor who contributed to Earth Focus' Kanha Project.
To read about what both the coaching programs, click here
To know all about Earth Focus – Kanha Project, click here.
REWARDS & PRIZES FOR THE TOP PERFORMERS
Trophies for Top 3 in all categories – Under 40, 40 and above and Women.

Medals for Top 50 in under 40 and 40 and above, along with a Tea Hamper by Teabox.

Winner in Under 40 category – Holiday at Cidade De Goa (B & B) for two nights.

Winner in 40 and above category – Apple watch 7 SE or Equivalent gift card.

Winner in Women's category – Airpod pro or Equivalent gift card by Project Fitness Co.

1st Runners up in under 40 and 40 and above categories – 2 nights stay at Kanha and one jungle safari for a couple by Earth Focus and an opportunity to experience Earth Focus' activities during the stay.

Top 3 in all three categories – Backpack from Stuff Cool, Sports Glasses from Enrico, Gift Vouchers from Suspire and Aboli Decor.

TShirts and Jackets by iLogo for the winners

Certificate to all 1000 participants with comprehensive personalized financial planning.
And many more…